Canadian War Monument Commemorating Merchant Navy Vessels Lost in WW I and WWII (includes the Victolite)
The Sinking of the Victolite
When first researching information on this ship, I ran across theE.M.Clark which supposedly was the same ship. However, one thing the struck me was E.M. Clark was reportedly sunk on March 18, 1942, by German U-boat U-124. Other research indicated the Victolite was sunk by the German U-boat U 564. There are several websites that report the sinking of this ship on February 10, 1942, at the coordinates listed below. The British Columbia government website recognizes Mount Reid named after a seaman killed on the Victolite: "Named in memory of Canadian Merchant Navy Junior Engineer Officer John Royal ("Roy") Reid, from Notch Hill (near Salmon Arm); enlisted at Victoria in 1939, and served aboard several Canadian Merchant Navy ships; killed in action 10 February 1942 when his oil tanker "Victolite" - bound from Halifax to Las Piedras, South America - was torpedoed and sunk." Some reports indicate that there were 47 crewmen aboard and none survived.
A war diary by R.G. Payne, Lt.-Commander, USNR recorded at 2145 (time) that "S.S. VICTOLITE reported SSS and torpedoed at 36-12N; 67-14W. British time approx. 110130 GCT."
SS Victolite (11,410 GRT) Canadian Imperial Oil tanker was torpedoed & subsequently sunk northwest of Bermuda in position 36.12N, 067.14W, by gunfire from U-564, ObLtzS Reinhard Suhren, Knight's Cross, Knight's Cross with Oak Leaves, Knight's Cross with Oak Leaves and Swords. There were no survivors from her crew of 47. Victolite was sailing in ballast alone from Halifax to Uruguay to load diesel fuel. The ship exploded when hit, due to the explosive vapors in her empty tanks.
THE SHIP'S SPECIFICS:
| | |
| --- | --- |
| Built: 1928 | Sunk: Feb. 10, 1942 |
| Type of Vessel: Tanker | Owner: Imperial Oil Company, Toronto |
| Builder: Alexander Stephen & Sons Glasgow | Power: Steam |
| Port of registry: Toronto | Dimensions: 510' by 68' |
| | |
LOCATION OF THE SINKING:
Here is the location of the sinking: 36.12N/67.14W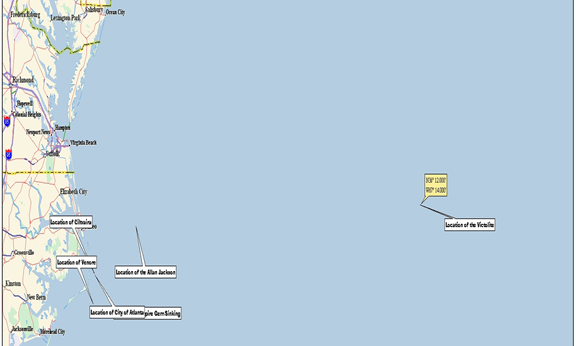 OTHER INFORMATION :
LOST CREW MEMBERS :
A listing of the lost crew: Toal Crew Lost: 47, Listed Below: 46 (Source: Veterans Affairs Canada)
| Last | First | Date | Position |
| --- | --- | --- | --- |
| ARSENAULT | Antoine J. | 02/11/42 | Boilermaker |
| BALL | John Franklin | 02/11/42 | F/W |
| BELL | Raymond | 02/11/42 | Storekeeper |
| BOURBONNAIS | Philippe | 02/11/42 | A.B. |
| BOYNTON | George William | 02/11/42 | O.S. |
| BUCKINGHAM | Thomas J. | 02/11/42 | 2nd Engineer |
| BURKE | John Warren | 02/11/42 | A.B. |
| BURT | George Charles | 02/11/42 | Engineer |
| CHISHOLM | Edwin Macdonald | 02/11/42 | Engineer |
| CROSS | Judson James | 02/11/42 | F/W |
| DAUPHINEE | Wilfrid Eldon | 02/11/42 | O.S |
| DEMPSEY | Graydon | 02/11/42 | F/W |
| DRISCOLL | Kenneth | 02/11/42 | A.B. |
| ETTINGER | Claude W. | 02/11/42 | 3rd Mate |
| GEDDES | Richard Cameron | 02/11/42 | 3rd Engineer |
| GETSON | Frederick | 02/11/42 | A.B. |
| GETSON | Harold Frank | 02/11/42 | 4th Mate |
| GOULET | Jean Jacques | 02/11/42 | A.B. |
| HARRIES | David Propert | 02/11/42 | 1st Mate |
| HILCHEY | Eugene A. | 02/11/42 | Pumpman |
| LATIMER | Fraser H. | 02/11/42 | Engineer |
| LEE | James C. | 02/11/42 | Chief Cook |
| MacMILLAN | Peter | 02/11/42 | Chief Stewart |
| MARCHAND | Arthur | 02/11/42 | A.B. |
| MARSHALL | Francis | 02/11/42 | Chief Cook |
| MARTELL | Gerard Roy | 02/11/42 | O.S. |
| MATTATALL | Albert Lewis | 02/11/42 | Mess Boy |
| McCREA | Victor | 02/11/42 | Mess Boy |
| MUNRO | Neil | 02/11/42 | Chief Engineer |
| OUELLET | Joseph Albert | 02/11/42 | 2nd Mate |
| PHARAND | Roger | 02/11/42 | Mess Boy |
| POLYGACH | John | 02/11/42 | Wiper |
| POMMERELLE | John Thomas | 02/11/42 | Bosun |
| RAYMOND | Fred Charles | 02/11/42 | A.B. |
| REID | Roy | 02/11/42 | Engineer |
| ROWLAND | John Thomas | 02/11/42 | O.S. |
| SMITH | Peter McLean | 02/11/42 | Master |
| SODERBERG | Fritgof | 02/11/42 | Wiper |
| SPOFFORTH | Thomas Joseph | 02/11/42 | 5th Engineer |
| STONE | Daniel Ralph | 02/11/42 | Wiper |
| STRATTON | Reginald A. | 02/11/42 | Engineer |
| TAYLOR | Frank G. | 02/11/42 | Chief Radio Officer |
| TAYLOR | Samuel | 02/11/42 | 2nd Cook |
| TOOKER | Charles H. | 02/11/42 | Saloon Messman |
| VAUGHAN | Owen Havelock | 02/11/42 | 4th Engineer |
| WRIGHT | Donald Albert | 02/11/42 | A.B. |
A.B.=Able-Bodied Seaman
O.S.=Ordinary Seaman
F/W=Fireman/Watertender
Bosun=Boatswain