The Sinking of the Blink
The Blink sinking wasn't officially acknowledged by the Navy Department until nearly two weeks after it had been hit by three torpedoes and sunk. Twenty-four crewmen were lost in this attack. The ordeal the surviving six men told was one of horror and amazing. These men survived for over sixty-six hours in a lifeboat the repeatedly capsized in mountainous and shark-infested seas. These surviving men also witnessed seventeen other crewmen in the crowded lifeboat go mad from thirst and die in agony.
They were picked up by a rescue vessel, unnamed at the time, and taken to Baltimore on February 17th and admitted to the United States Marine Hospital. Five of the surviving crew were Norwegians: Chief Officer Briger Lunde, 28 years old: Able-Bodied Seaman Odd Nunne, 25, and Naker Thorbjornesen, 20; Steward Harry Friss, 31, and Fireman Godfried Gulkisen, 29. The sixth was Ordinary Seaman George Johnson from Britain.
Chief Officer Lunde said the first torpedo hit the No. 2 holds of the Blink but didn't explode. Minutes later two others exploded in the engine room killing three men on duty there. Scalding steam from the smashed boilers came into his cabin and when he tried to go out the door it had jammed due to the shock of the explosions. He finally used an ax to break it open and ran onto the deck. When he arrived he found Captain Sigurd Ulvestad giving orders to abandon the sinking ship.
The port lifeboat had been smashed by the explosion. Fortunately, within five minutes twenty-three officers and men were able to launch the starboard lifeboat. Four others took to a life raft, which reportedly drifted out of sight even before the Blink sank and approximately fifteen minutes after she had been torpedoed. "We dragged a sea anchor all night waiting to see if there were any men in the water," Lunde said. "When we found none we tried to start the motor but it wouldn't go. It was full of water. Then we tried to raise the sail, and the boat capsized. Everybody went into the heavy sea. We lost our food, our water, our oars, our sail. One man was lost. The rest of us clung to the keel and righted the boat."
Lunde went on to report two men climbed into the bail the boat out but waves kept pouring water into the lifeboat as fast as they could bail. The other seamen climbed over the side but found themselves in waist-deep icy water as they sat on the seats of the boat. Twice more during the day the lifeboat capsized and was righted, each time with the loss of several more men. In between the capsizings men were repeatedly washed overboard by huge waves. Lunde stated, and other survivors confirmed, that Nunne several times was heroic in pulling men back into the lifeboat.
"One by one the men went mad, " Lunde stated. "They would talk of a comfortable bed or a cup of coffee. Captain Ulvestad talked of his family just before he died. We tried to catch a few drops of rain on our tongues. Several men tried to jump overboard, but we kept them inside." Lunde continued to tell the tragic tale. "Frequently we had numerous encounters with sharks. We shouted, we made noises, we did whatever we could to scare them off because we had nothing to fight them with, not even oars. Our lips were swollen and cracked from lack of water. On two occasions we saw ships, but they were too far off. We couldn't get their attention." Lunde told the Associated Press that those that survived were "good sailors" who "really fought for their lives," but he added that it "absolutely was luck that we were saved." "I was afraid for another night," he added.
According to ubootwaffe.net, the Blink was sunk by the German U-boat U-108 on February 12th at 028 (German time). Its voyage was from Tampa and Charleston to Halifax and Ipswitch with 3600 tons of phosphates.
THE SHIP'S SPECIFICS:
| | |
| --- | --- |
| Built: 1920 | Sunk: Feb. 11, 1942 |
| Type of Vessel: Steam Freighter | Owner: Mantiowoc Shipping Company, Oslo, Norway |
| Builder: Bristol, England | Power: Oil-fired steam |
| Port of registry: | Dimensions: |
LOCATION OF THE SINKING:
Here is the location of the sinking: 35.00N/72.27W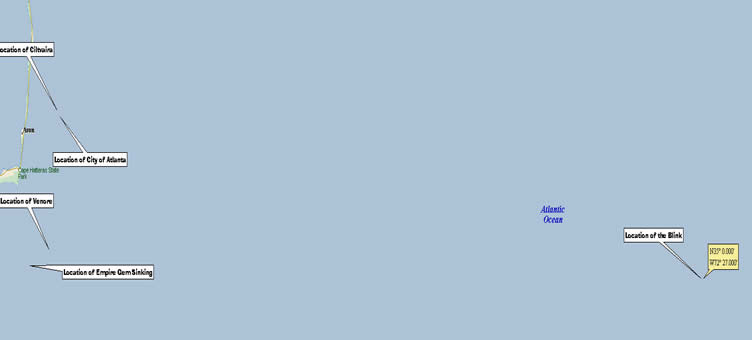 LOST CREW MEMBERS:
| Last | First | Date | Position | Home | Age |
| --- | --- | --- | --- | --- | --- |
| | | | | | |
A.B.=Able-Bodied Seaman
O.S.=Ordinary Seaman
F/W=Fireman/Watertender
Bosun=Boatswain