The Sinking of

G. A. Kohler

:
The G.A. Kohler began her life as the Charles S. Gawthrop. She was a four-masted schooner with twin diesel auxiliary engines. It was built by the Jackson & Sharp plant of the American Car & Foundry Company of Wilmington, Delaware. According to the January 1920 edition of Motorship had its first trial run from Wilmington to Delaware Breakwater on Thursday, November 13, 1919, which was a success.
An article in the March 10, 1923 edition of the Baltimore Sun reported that Schooner Charles S. Gawthrop from Woodin Transportation Company to Maryland Transportation Company of Baltimore. One resource indicates that the name change to G.A. Kohler was changed in 1926.
Her last voyage began on August 20, 19933 in Baltimore, Maryland. The G.A. Kohler's destination was Haiti. She was commanded by Captain George Hopkins. As it headed out, a hurricane began blowing off the coast of North Carolina. After leaving the Chesapeake Bay, the ship reported it had lost its sails and was reeling helplessly. The high winds forced the G.A. Kohler to run aground on the beach about 4 miles south of Salvo. Due to their location and the power of the storm, it was hard to reach the crew members and passengers. The Coastguardsmen from the Chicamacomico Life Saving Station and Gull Shores were able to rescue everyone once the winds subsided.
"The G.A Kohler set sail for the last time in August of 1933," the caption reads. "The ship was sailing south along the Outer Banks when a hurricane passed through causing the ship to crash onto the beach. All crew members were rescued, but the ship lay stranded for a decade."
However, the ship was unrecoverable. It remained on the beach for the next ten years. The ship was sold for salvage for $150. During this time, islanders were paid to salvage whatever they could off the ship.
According to a National Park Service study of the villages of Hatteras Island, what is now the Lighthouse Church in Salvo was built from the wood of the ship. "The congregation met in peoples' homes until a church was built in 1935…from timbers of the G.A. Kohler shipwreck of 1933. The first service was held October 6, 1935," the studies' authors wrote.
During WW II, the ship was burned for the metal in her fittings. More recently, the remains of the ship can be seen from time to time depending on the shifting sands.
THE SHIP'S SPECIFICS:
| | |
| --- | --- |
| Built: 1919 | Sunk: August 23, 1933 |
| Type of Vessel: Schooner | Owner: Maryland Transportation Company, Baltimore, MD |
| Builder: Jackson & Sharp Plant, American Car & Foundry Company, Wilmington, DE | Power: Twin Diesel Auxillary Engines |
| Port of registry: Baltimore, MD | Dimensions: 212.2' x 40 x 21.2 |
| Previous Names: Charles S. Gawthrop | |
LOCATION OF THE SINKING:
Here is the location of the sinking: 4 miles south of Salvo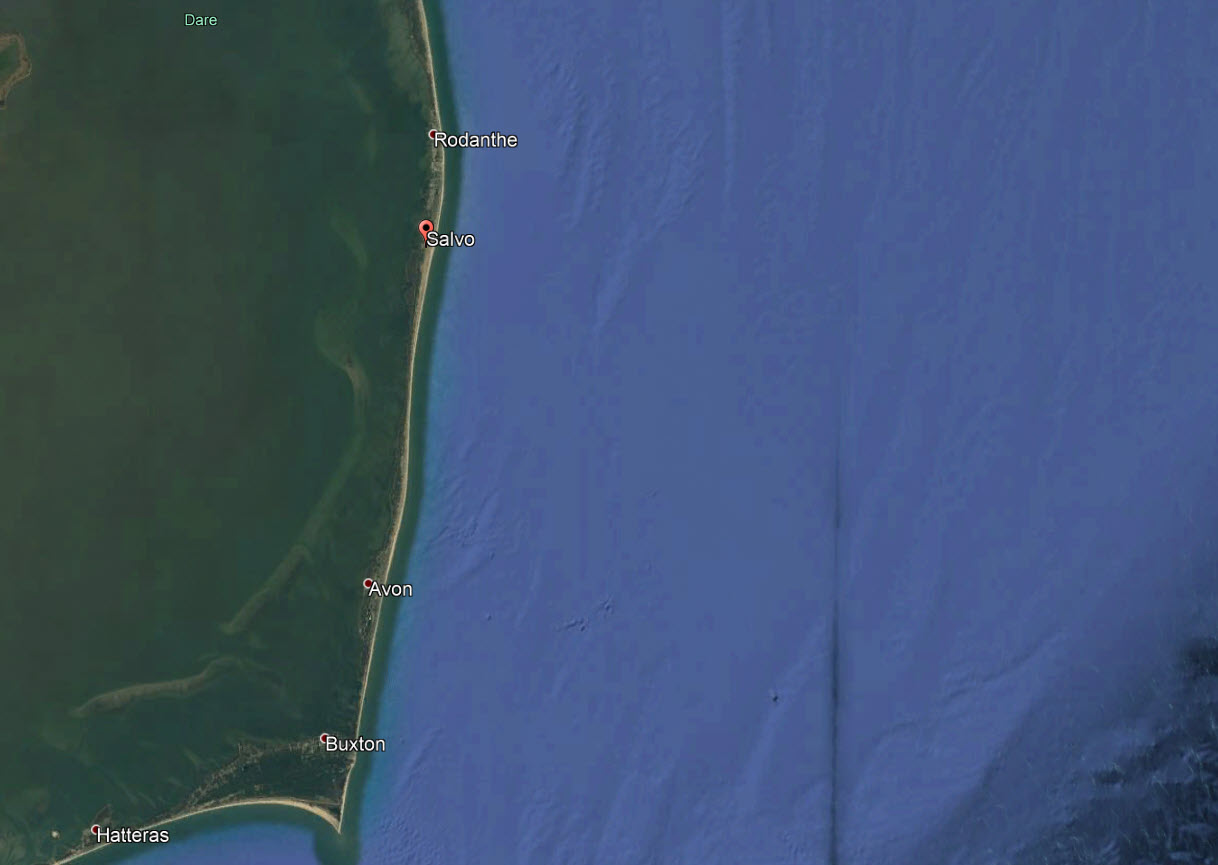 LOST CREW MEMBERS :
| Last | First | Date of Death | Position | Home | Age |
| --- | --- | --- | --- | --- | --- |
| | | | | | |
SURVIVING
CREW MEMBERS :
A partial listing of the surviving crew: Total Crew Lost: Survivors: All
| | | | | | |
| --- | --- | --- | --- | --- | --- |
| Last | First | Position | DOB | Home | Age |
| | | | | | |
ADDITIONAL PHOTOS OF G.A. KOHLER :