The Sinking of the Olympic
The ship was originally built in November 1907. It was placed into service under the name Harport for J & C Harrison Ltd of London. In 1912, it was sold to Germany and was converted to a tanker for Deutsch-Amerikanische Petroleum GmbH of Hamburg. In August of 1914 the ship was located in Pisgua, Chile and soon was transferred to the US under the name Dayton for Standard Oil Co. of Bayonne, New Jersey. Once again it was sold to J.M. Botts of New York in 1923. In 1925, it was renamed the Olympic for Olympic SS Co Inc. of Seattle. In 1940, it was sold to Petroleum Heat & Power Co. of Los Angeles. And a year later (1941) it was registered in Panama for Cia International de Vapores SA & Cia Gener de Vapores SA (S.S. Niarchos) of Panama.
Panamanian Tanker was heading from Curacao to Baltimore with crude oil when it was torpedoed by German U-boat U-66. It apparently broke in two and sank within one minute after being torpedoed twice on the starboard side. It was reported missing when it failed to arrive in Baltimore on January 22, 1942.
THE SHIP'S SPECIFICS :
| | |
| --- | --- |
| Built: 1907 | Sunk: January 22, 1942 |
| Type of Vessel: Steam Tanker | Owner: Cia International de Vapores SA & Cia General de Vapores SA (S.S. Niarchos), Panama |
| Builder: J. Readhead & Sons, South Shields | Power: Steam Engine |
| Port of registry: Panama | Dimensions: 112.8 x 15.3 x 9.8 m |
| Previous Names: Harport, Dayton | Lost Crew: 35 |
LOCATION OF THE SINKING:
Here is the location of the sinking: 36.01N/75.30W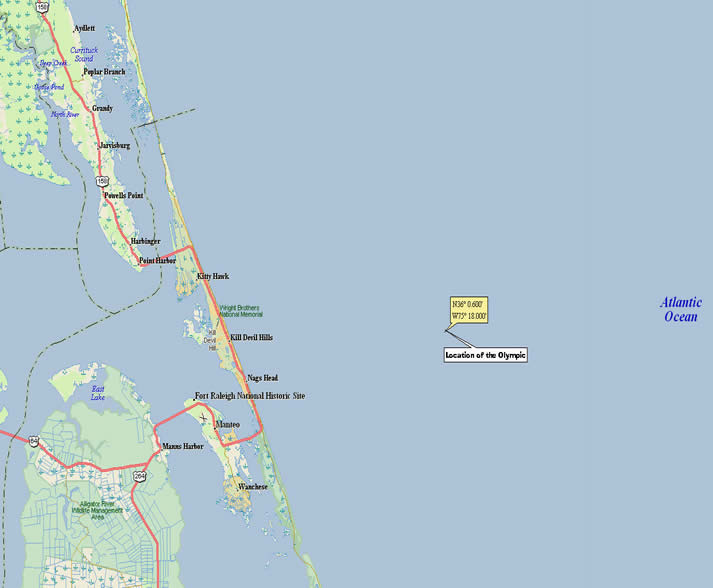 LOST CREW MEMBERS:
Total Lost: 35, Survivors: 0
| Last | First | Date of Death | Position | Home | Age |
| --- | --- | --- | --- | --- | --- |
| Boublinis | Georgios | January 22, 1942 | Boatswain | Greece | 40 |
| Boudouzis | George | January 22, 1942 | Crew Member | Greece | 53 |
| Boyezo | Juan | January 22, 1942 | Crew Member | Spain | 39 |
| Calcounis | Elefterios | January 22, 1942 | Crew Member | Greece | 29 |
| Cambistis | Photios | January 22, 1942 | Crew Member | Greece | 36 |
| Castzo | Jaaquin | January 22, 1942 | Crew Member | Spain | 43 |
| Dagamina | Adriano Sinicio | January 22, 1942 | Steward | Philippines | 34 |
| Dascaleas | Ioannis | January 22, 1942 | Able Seaman | Greece | 36 |
| Dimitriou | Gerogios | January 22, 1942 | Cook | England | 26 |
| Doré | Frederico Vane | January 22, 1942 | Crew Member | England | 43 |
| Fratzios | Thrasyboulos | January 22, 1942 | Fireman | England | 28 |
| Gregos | Ioannis | January 22, 1942 | Second Mate | Greece | 38 |
| Henricksen | Harry | January 22, 1942 | Crew Member | Norway | 23 |
| Herron | Dudley Lunt | January 22, 1942 | Firemen | England | 28 |
| Kapiris | Stylianos | January 22, 1942 | Oiler | Greece | 39 |
| Karatzas | Dimitrios | January 22, 1942 | Able Seaman | Greece | 40 |
| Maltezos | Georgios | January 22, 1942 | Chief Engineer | Greece | 41 |
| Marianos | Stefanos | January 22, 1942 | Fireman | Greece | 40 |
| Mastrantonakis | Emmanouil | January 22, 1942 | Oiler | Greece | 42 |
| Maxouzis | Ioannis | January 22, 1942 | Crew Member | Greece | 24 |
| Opyrchaski | Edward | January 22, 1942 | Oiler | Poland | 44 |
| Papazoglou | Constantinos | January 22, 1942 | Master | Greece | 37 |
| Rade | Ivan | January 22, 1942 | Third Assistant Engineer | Yugoslavia | 57 |
| Radovic | Ivan | January 22, 1942 | Pumpman | Yugoslavia | 38 |
| Railan | Evgenios | January 22, 1942 | Fireman | Russia | 20 |
| Sabalgogeascoa | Francisco | January 22, 1942 | Third Assistant Engineer | Spain | 42 |
| Tsakos | Dimitrios | January 22, 1942 | Able Seaman | Greece | 21 |
| Vacalopoulos | Nicolaos | January 22, 1942 | Third Assistant Engineer | Greece | 32 |
| Watts | Edward | January 22, 1942 | Crew Member | USA | 19 |
| Yiannopoulos | Ioannis | January 22, 1942 | Able Seamen | Greece | 28 |