Sinking Empire Gem still ablaze
The Sinking of the Empire Gem
The Empire Gem was only three months old when she was attacked off the Diamond Shoals on the night of January 23, 1942. At the time her tanks were filled with 10,600 tons of gasoline picked up at Port Arthur, Texas. The ship was heading towards Halifax, Nova Scotia to rendezvous with a convoy headed for England.
During the day the captain, Captain Francis Broad, followed a zigzag pattern as a precautionary measure. The ship was equipped with a 4-inch gun at the aft, a 12-pound anti-aircraft gun, and six machine guns. The crew was aware of the sinking of the Ciltvaira and the City of Atlanta and the shelling of the Malay.
The Empire Gem passed the Venore. As the tanker approached the Diamond Shoals Light Buoy at approximately 7:45 P.M. an explosion ripped out one of the after tanks on the starboard side. The ship was immediately ablaze. The U-66 had struck. Radio Operator Ernest McGraw and his assistant, Thomas Orrell sent off an SOS before the radio went dead.
There were no orders to abandon the ship yet knowing that the ship was filled with gasoline, men began to launch lifeboats. However, the port midship lifeboat capsized upon hitting the water. This whole time the ship's engines continued to run for another three hours. The captain attempted to contact the engine room but received no response.
At the same time, the Venore had been hit by the U-66 and also sent an SOS. The Ocracoke Coast Guard Station sent out a motor lifeboat. Because the Empire Gem was closer and more visible due to the flames from the ship, the lifeboat moved towards the bow section and spotted Captain Broad, McGraw, and Orrell. At this time the seas were high and the lifeboat couldn't get close due to the intense flames the three jumped into the sea and swam towards the lifeboat. Sadly, Ernest McGraw was swept away by the high seas and not seen again. Of the crew of fifty-seven only these two survived.
Because of the smell emanating from the ship, it is commonly referred to as the Smell Wreck.
THE SHIP'S SPECIFICS:
| | |
| --- | --- |
| Built: 1941 | Sunk: Jan. 23, 1942 |
| Type of Vessel: Tanker | Owner: Ministry of War Transport (British Tanker Company, Ltd., Mgrs.) |
| Builder: Harland & Wolff, Glasgow, Scotland | Power: Twin diesel engines |
| Port of registry: Glasgow, Scotland | Dimensions: 463' x 61' x 33' |
LOCATION OF THE SINKING:
Here is the location of the sinking: 35'01.80N 75'28.51W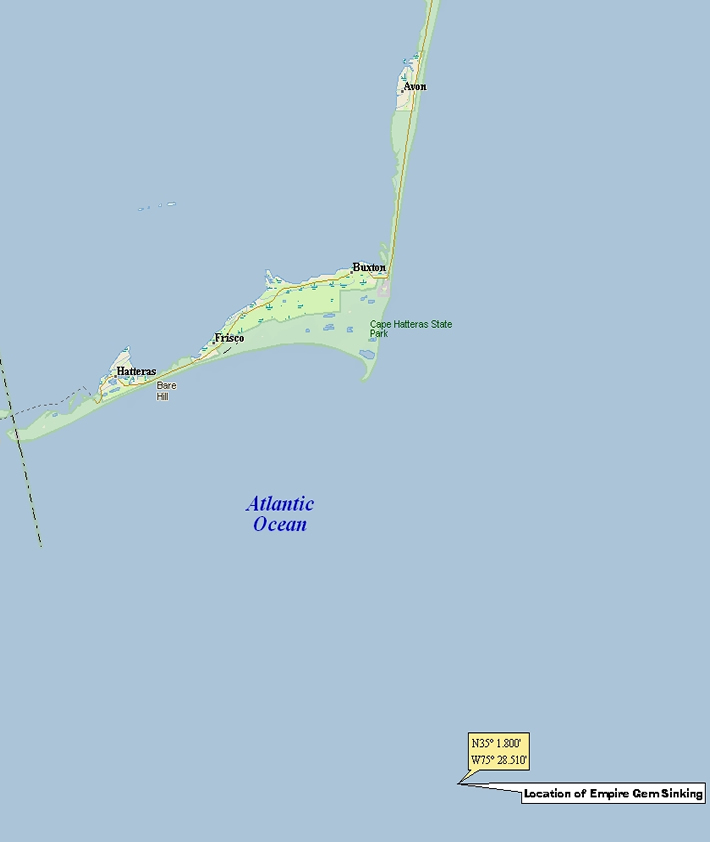 PHOTOS OF THE SHIP:
Another view of Empire Gem still burning

Surviving two crew members without hats

Empire Gem plaque at London Merchant Marine Memorial

The Empire Gem - Today - Photos Courtesy of © Paul M. Hudy at www.nc-wreckdiving.com

(Bottle found on starboard edge of stem

- © Paul M. Hudy at www.nc-wreckdiving.com)

(Exploring the engine area

- © Paul M. Hudy at www.nc-wreckdiving.com)

(Rudder & Propeller in 2004

- © Paul M. Hudy at www.nc-wreckdiving.com)

Rudder & Propeller in 2002

- © Paul M. Hudy at www.nc-wreckdiving.com)