The Sinking of the Ashkhabad
The Ashkhabad was a tanker traveling from NY to Cuba being escorted by the HMS trawler Lady Elsa. The ship left on April 26, 1942, for Matanzas, Cuba. The tanker had been outfitted with two 3-inch guns and two.30-caliber Lewis machine guns on the bridge and two on the poop deck.
On April 29th at 9:50 PM the Lady Elsa spotted a U-boat some five hundred yards off the tanker's starboard beam. The Lady Elsa fired a single round but not before the submarine-launched its torpedo. The tanker was hit on the starboard side by a single torpedo launched by the U-402 submarine and sunk by its stem end in shallow water off Cape Lookout.
The captain, Alexy Pavlovitch ordered the crew to abandon the ship. The crew was rescued by Lady Elsa. The Russian crew was taken to Morehead City. There were no injuries during this attack.
The following day at 10:00, a boarding party from the HMS Hertfordshire, a British Army trawler, began salvaging the Ashkhabad. What was "salvaged" was mostly navigational equipment and clothing. When the Ashkabad captain returned five hours later with his crew and a Fifth Naval District Intelligence Officer, they discovered their losses.
The following day upon return again to the ship, the Russian crew discovered the Hertfordshire tied to the tanker. Again the crew of the British trawler was helping themselves to whatever they could take. When they found out the ship was not derelict and savage tugs were on their way, the British crew returned what they had taken.
Apparently, due to miscommunication, the Ashkhabad days were numbered. On the evening of May 3rd, the US destroyer Semmes (DD-189) fired three founds from its 3-inch gun into the Ashkhabad's midship. The midship caught fire. To add insult to injury, literally, the HMS St. Zeno seeing the flames, fired upon the burning ship. They had received authorization from the commanding officer of the Hertfordshire to help sink the Ashkhabad and put out the flaming vessel, which would have been a hazard to an approaching convoy.
By the time the Navy salvage tug, Relief arrived the Ashkhabad was a total loss. It had now become a hazard to navigation, it was first tagged with a flashing green buoy. In 1943, it was demolished by explosives and again in 1944 to sink it deeper.
Today, it has become a popular diving location.
THE SHIP'S SPECIFICS:
| | |
| --- | --- |
| Built: 1917 | Sunk: April 29, 1942 |
| Type of Vessel: Tanker | Owner: USSR |
| Builder: Harland & Wolff (Glasgow, Scotland) | Power: Oil-fired steam |
| Port of registry: Odessa, Russia | Dimensions: 400' x 52' x 28' |
LOCATION OF THE SINKING: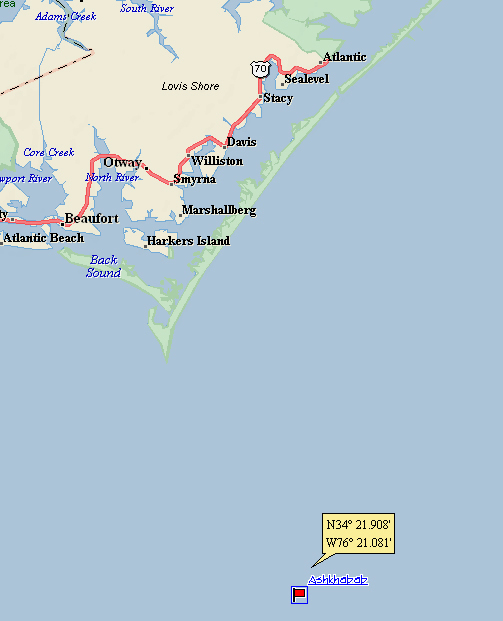 PHOTOS OF THE SHIP :
(The Ashkhabad after being shelled - Courtesy of the National Archives)

(The Ashkhabad after being shelled - Courtesy of the National Archives)

(The Ashkhabad on May 1, 1942- Courtesy of the National Archives)

(The Ashkhabad one month after sinking - Courtesy of the National Archives)

The Ashkhabad Today - Photos Courtesy of © Paul M. Hudy at www.nc-wreckdiving.com

(Typical twisted wreckage on the bow

- © Paul M. Hudy at www.nc-wreckdiving.com)