The sailing ship - George W. Truitt, Jr. by Antonio Jacobsen - 1910
The Sinking of the

George W. Truitt, Jr.

:
According to an AP report, the George W. Truitt, Jr. was a 700-ton freighter with a cargo of lumber that had left New River, South Carolina, and was headed to New York. The ship was commanded by Captain E.B. Bennett of Sharptown, MD. The February 21 news report indicated that the night of February 20 the four-masted schooner "was being beaten to pieces by breakers eight miles off Ocracoke Inlet, after being ground by heavy weather." The schooner finally went ashore seven miles north of the Ocracoke station.
They report that distress flares were sighted early in the morning by members of the Ocracoke station according to Captain H.B. Goodwin of Port Macon station. Coast Guardsmen from Ocracoke, Hatteras Inlet, and Creeds Hill stations took part in the rescue. The utilized breeches buoy operated by the Coast Guardsmen were able to rescue the crew of seven and brought to the Coast Guard headquarters at Beaufort, North Carolina.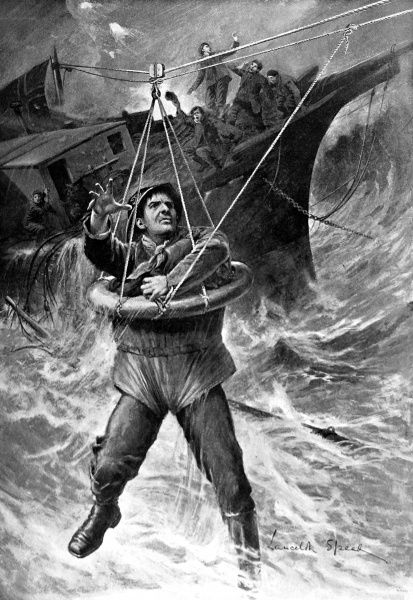 Breeches Buoy
THE SHIP'S SPECIFICS:
| | |
| --- | --- |
| Built: | Sunk: February 20, 1928 |
| Type of Vessel: Schooner | Owner: |
| Builder: | Power: |
| Port of registry: Wilmington, Delaware | Dimensions: |
| Previous Names: | |
LOCATION OF THE SINKING:
Here is the location of the sinking:
LOST CREW MEMBERS :
| Last | First | Date of Death | Position | Home | Age |
| --- | --- | --- | --- | --- | --- |
| | | | | | |
| | | | | | |
SURVIVING
CREW MEMBERS :
A partial listing of the surviving crew: Total Crew Lost: 0 Survivors: 7
| | | | | | |
| --- | --- | --- | --- | --- | --- |
| Last | First | Position | DOB | Home | Age |
| | | | | | |