The Sinking of

Ella Pierce Thurlow

:
The Ella Pierce Thurlow was built in 1918 and was originally named R.B. Drisko. It was built by the Francis Cobb Company of Rockland, Maine. It was originally owned by the Atlantic Coast Company and then was sold to the New England Maritime Company of Boston Massachusetts and renamed Ella Pierce Thurlow.
It was built with oak hardwood and with a yellow pine decking. It was built to be like a barge and traveled up and down the eastern coast of the United States delivering raw materials for industry. In late March, the ship was in Savannah, Georgia, and was loaded with nitrate to be delivered to New York. On March 23, the ship ran into a storm off the North Carolina coast. According to the Daily Press of Newport News, Virginia (March 24, 1932), the barge was abandoned about 34 miles northeast of Frying Pan Shoals.
The Ella Pierce Thurlow, along with the barge Briana Pendelton was being towed by the tug, Susan Moran. The tug took four men who had abandoned the barge. The crew of eleven had managed to escape in liferafts as the ship sank in 125 feet of water.
THE SHIP'S SPECIFICS:
| | |
| --- | --- |
| Built: 1918 | Sunk: March 23, 1932 |
| Type of Vessel: 4 Masted Schooner Barge | Owner: New England Maritime Company, Boston, MA |
| Builder: Francis Cobb Company, Rockland, Maine | Power: |
| Port of registry: | Dimensions: 221' |
| Previous Names: R.B. Drisko | |
LOCATION OF THE SINKING:
Here is the location of the sinking: Off Cape Fear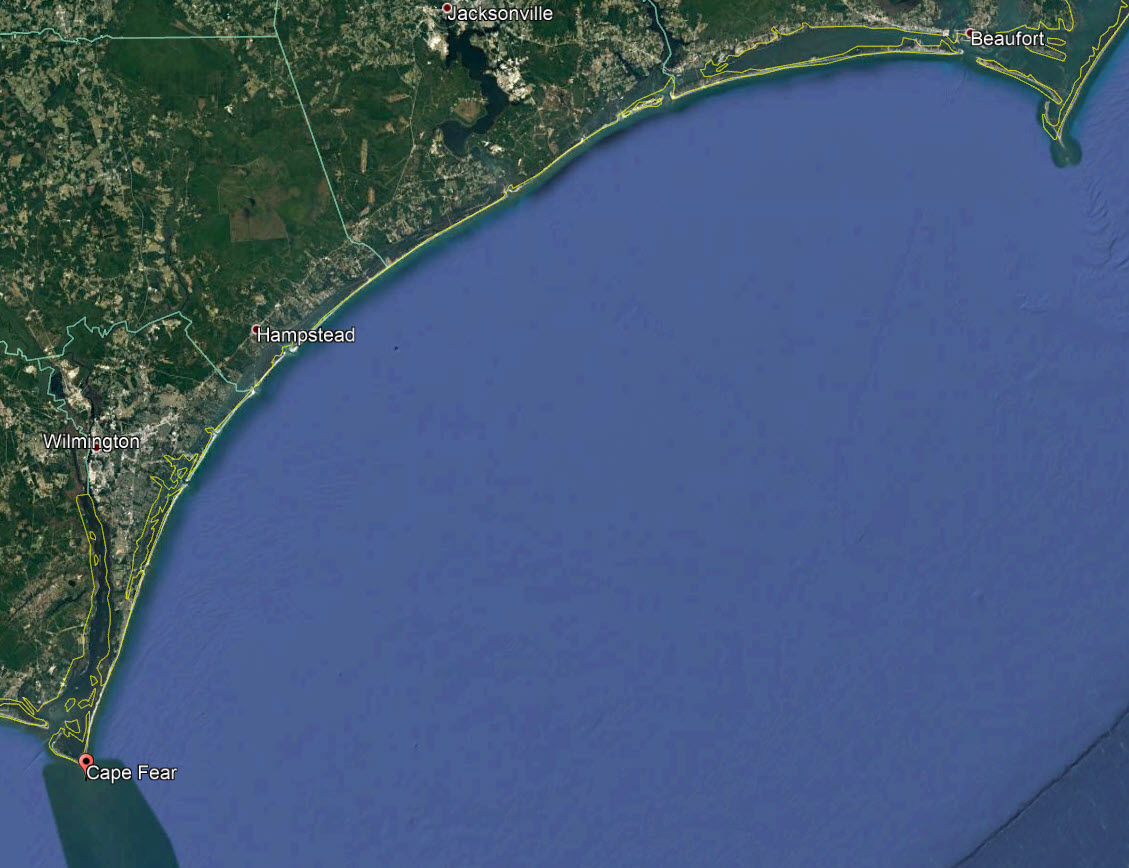 LOST CREW MEMBERS :
| Last | First | Date of Death | Position | Home | Age |
| --- | --- | --- | --- | --- | --- |
| | | | | | |
SURVIVING
CREW MEMBERS :
A partial listing of the surviving crew: Total Crew Lost: 0 Survivors: 11
| | | | | | |
| --- | --- | --- | --- | --- | --- |
| Last | First | Position | DOB | Home | Age |
| | | | | | |