Desert Light under her former name Pandia.
The Sinking of the Desert Light:
The ship was built in 1903 as the Pandia A. Ralli. In 1922 it was renamed the Nirefs, renamed again as the Finish Pandia which at the time was operated by a Finnish company owned by Arth Karlsson. In August 1941 it was registered in Panama. On December 27, 1941, it was seized by the US in New York on Executive Order and renamed the Desert Light. This Executive Order was signed by President Roosevelt on June 6, 1941. It authorized the requisitioning of all foreign merchant ships idling in any American ports in the interest of national defense. It was then under the command of the War Shipping Administration, who then turned it over to Alcoa SS in New York on February 6, 1942. At the time, the ship had been under the flag of Panama since August 1941.
In April of 1942, the ship was on its way from New York to Bermuda. Onboard was 3800 tons of supplies for the Naval Operating Base. 104 tons of supplies included ammunition and dynamite. At the time, she was sailing alone and unarmed. According to US Navy records, Captain Charles B. Dunn had to sign three crews before it could set sail. After one crew learned the ship was carrying explosives, they refused to sail and signed off. A second crew followed suit and refused to sail. On the third try, it got most of its crew from Canada and was finally ready to set sail.
One reports the Desert Light was hit at 6:00 PM on April 16, 1942 (uboat.net). Another reports the time of the attack was !2:03 PM (armed-guard.com). The ship was hit by two torpedoes fired by U-boat U-572 on the starboard side amidships just forward of the boiler room. The explosion blew out the bottom plates and tore the side of the hull up to the deck. There was a tremendous amount of damage done to the midship house the bulkhead holding the coal bunkers was ruptured. This resulted in the engine room and fireroom quickly flooded. Due to the tremendous amount of water entering these areas, the ship sunk within an hour. One fireman was killed in the attack.
The crew abandoned the ship in the port lifeboat (25 men) and the port raft (5 men). Eventually, all the men were aboard the lifeboat. All survivors were rescued on April 23, 1942, by the USS Roper and taken to Morehead City, North Carolina.
THE SHIP'S SPECIFICS:
| | |
| --- | --- |
| Built: 1903 | Sunk: April 16, 1942 |
| Type of Vessel: Steam Merchan | Owner: Alcoa SS Co., New York |
| Builder: W. Gray & Co., West Hartlepool, England | Power: Coal - Single Screw |
| Port of registry: Panama | Dimensions: 313' x 43' x 19' |
| Previous Names: Pandia A. Ralli, Nirefs, Diamando, Pandia | |
LOCATION OF THE SINKING:
Here is the location of the sinking: 35° 35'N, 72° 48'W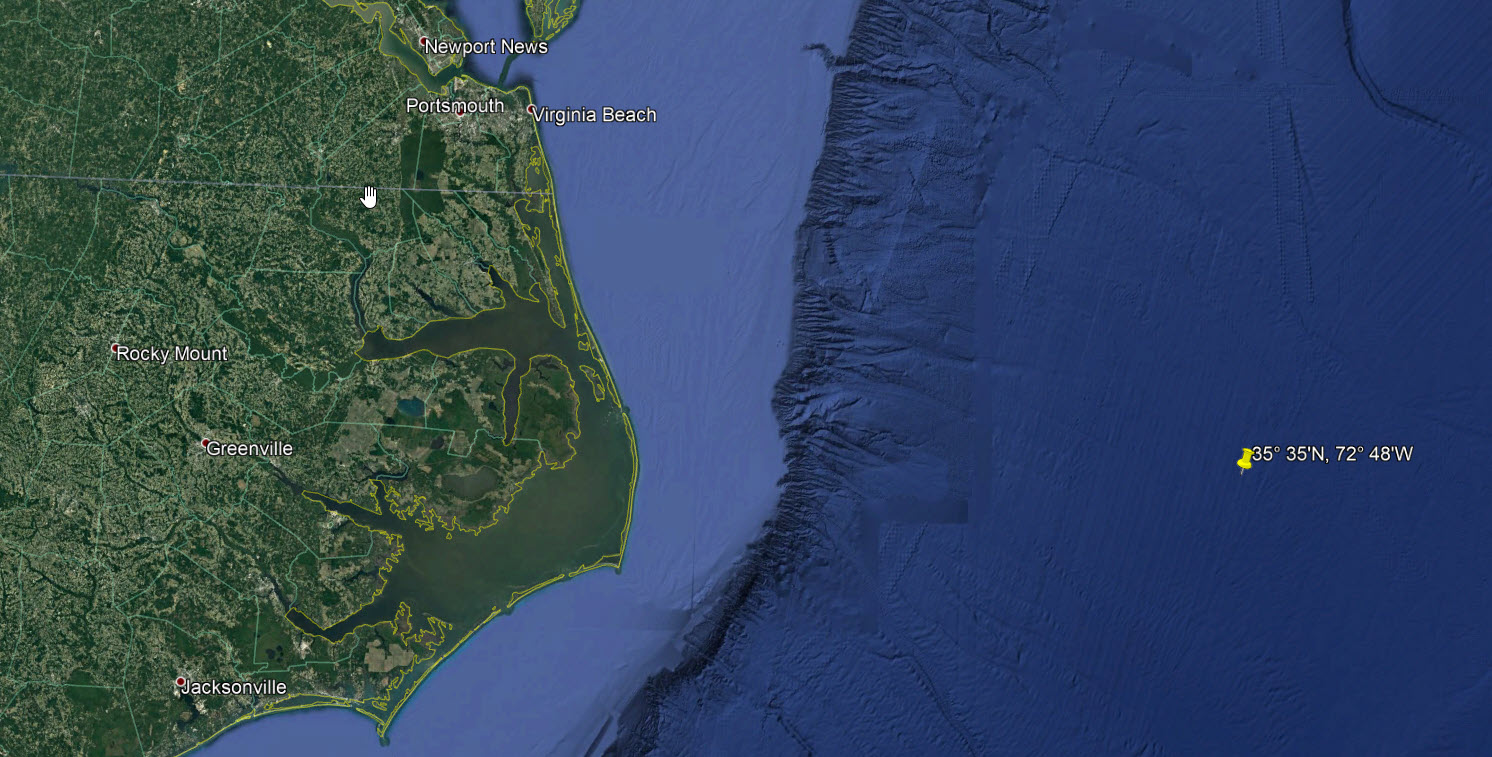 LOST CREW MEMBERS :
Total Lost: 1, Survivors: 30
| Last | First | Date of Death | Position | Home | Age |
| --- | --- | --- | --- | --- | --- |
| Clement | Lorenzo Bascum | April 16, 1942 | Fireman/Wiper | Denton, TX | 35 |
SURVIVING
CREW MEMBERS:
A listing of the surviving crew:
| Last | First | Position | DOB | Home | Age |
| --- | --- | --- | --- | --- | --- |
| Dunn | Charles B. | Master/Captain | | | |