Norvana under her former name York
The Sinking of the Norvana
Originally known as the York when she was owned by the Merchants and Miners Transportation Company. Early records indicate she was involved in a serious collision with Commercial Pioneer on April 27, 1938. The collision occurred in the entrance of the Delaware Bay during heavy fog. The York suffered a large hole on the waterline. The York was beached on a shoal a quarter-mile from shore to prevent the ship from sinking. The ship was repaired and was sailing once again.
In October of 1941, she was turned over to the government and renamed Norvana. The ship was placed under the management of the North Atlantic Gulf and West Indies Steamship Company. On January 14, 1942, the Norvana left Havana, Cuba headed for Philadelphia.
The Norvana's tale, as to its ending, will never be told. There is only speculation as to what occurred She never arrived at her destination and was reported overdue and assumed lost. The only signs of wreckage were reported on March 7th by the owners. They reported only a battered and empty lifeboat was found.
There appeared to be some confusion as to whether or not wreckage later found was the Brazilian Buarque. However, in the spring of 1944 divers of the Navy Salvage Service found the ship's bell with inscribed Lake Gatun. Divers found the wreck to be riddled with shell holes.
There are varying reports for which U-boat sunk the Norvana. Some report it being sunk by U-66, while others report U-123. Gary Gentile reports that German records credit the U-66 with the hit.
Uboat.net reports that it was struck at 05.16 hours on January 19th by U-123 south of Cape Hatteras. The first torpedo was fired at 04.41 hours but missed. The explosion sent pieces of the ship into the air. Some of those pieces hit the U-boat some 450 meters away. The ship was reportedly sunk within a minute of the hit.
Further evidence of this ship was found in 1991 when Mike Hillier recovered from the wreck's midship section two sets of brass letters each spelling YORK.
THE SHIP'S SPECIFICS :
| | |
| --- | --- |
| Built: 1920 | Sunk: January 20, 1942 |
| Type of Vessel: Freighter | Owner: North Atlantic Gulf and West Indies Steamship Company |
| Builder: Saginaw Ship Building Company, Saginaw Michigan | Power: Oil-fired steam |
| Port of registry: New York, NY | Dimensions: 253' x 43' x 26' |
| Previous Names: York & Lake Gatun | Lost Crew: 29 |
LOCATION OF THE SINKING: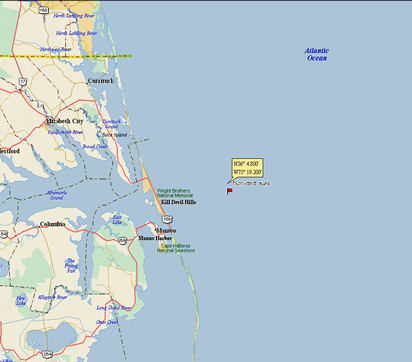 LOST CREW MEMBERS:
| Last | First | Date | Position | Home | Age |
| --- | --- | --- | --- | --- | --- |
| Clarke | Leonard Alexander | 1/18/42 | Chief Engineer | Baltimore, MD | Unknown |
| Coltrain | Dennis Robus | 1/18/42 | 3rd Engineer | Williamston, NC | Unknown |
| Johnson | Henry Carleton | 1/18/42 | 2nd Mate | Jersey City, NJ | Unknown |
| Kelly | John Henry | 1/18/42 | 2nd Engineer | Savannah, GA | Unknown |
| Lagoyianis | Peter Panagis | 1/18/42 | A.B. | Athens, Greece | Unknown |
| Lassus | Nickole Alexander | 1/18/42 | Oiler | New Orleans, LA | Unknown |
| Paige | Clifton | 1/18/42 | Messman | Newark, NJ | Unknown |
| Thompson | Ernest Jefferson | 1/18/42 | Master | Baltimore, MD | Unknown |
| Wechsler | Meyer Ernest | 1/18/42 | Radio Officer | Brooklyn, NY | Unknown |
| Wright | Meldrim(Medrims) Edward | 1/18/42 | Messman | Savannah, GA | Unknown |
*from www.usmm.org