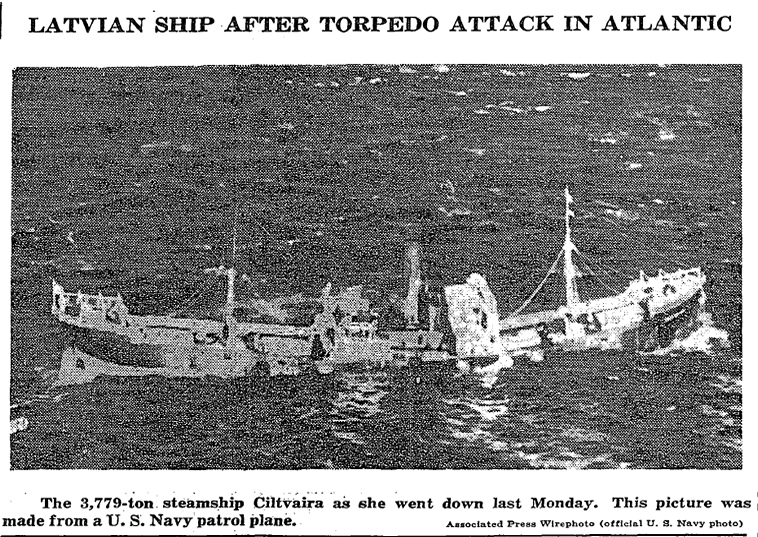 The Sinking of the Ciltvaira
The Ciltvaira was the third ship attacked by the U-123 in a short period of time. The first was the City of Atlanta, then thirty minutes later the tanker Malay lost five men and others injured.
The Ciltvaira was heading from Norfolk to Savannah with a load of paper. The ship was moving at a slow pace down the coast. At 5:00 A.M. the ship was struck on the port side of the engine room, pierced the boilers, and flooded the boiler room and No. 2 hold. There was a four foot in diameter at the waterline. Killed instantly were two firemen: Carl Gustaefssen and Rolf Semelin. Radio Operator Rudolph Musts was left stuck in his room due to the door being after the hit.
Captain Skarlis Kerbergs ordered the ship to be abandoned. At seven o'clock came the northbound passenger liner Coamo. The Ciltvaira was badly wounded but still afloat. The ship continued on its way at full speed afraid that the same fate might await them. Two hours later, the Brazilian freighter Bury came into view. The Bury attempted to tow the Ciltvaira but were making little headway. She continued onto New York with some of the crew of the Ciltvaira. About nine o'clock, the remaining crew, along with two pets (a cat named Briska and a puppy named Pluskis) were picked up by the tanker Socony Vacuum, which took the remaining crew to Charleston, South Carolina.
The USS Osprey (AM-56) arrived and stood by until the ocean-going tug USS Sciota (AT-30) could resume the tow. What happened next is somewhat sketchy. One report indicates it remained afloat and drifting for two days. Another report states a number of different variations from it being torpedoed a second time, to the ship while being towed lost in heavy seas.
THE SHIP'S SPECIFICS: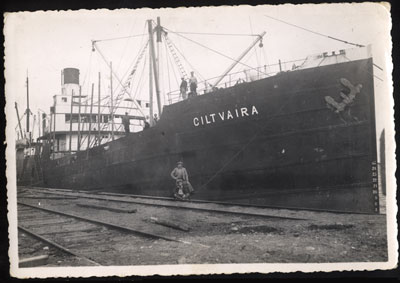 | | |
| --- | --- |
| Built: 1905 | Sunk: Jan. 21, 1942 |
| Type of Vessel: Freighter | Owner: Latvian Shipping Company |
| Builder: J.L. Thompson & Sons, Lted., Sunderland, England | Power: Coal-fired steam |
| Port of registry: Riga, Latvia | Dimensions: 346' x 50' x 23' |
LOCATION OF SINKING:
Here is the location of the sinking: 35'24.50N 75'21.24W