Keshena, date, and location are unknown. Photo courtesy of The Mariners' Museum.
The Sinking of the Keshena:
The tug was built in 1919 along with eight other ocean-going tugs. Its design was built in the style of older tugs with a small pilot house located on the forward quarter of the deck. It was originally built for the Southern Transportation Company of Philadelphia.
It was put into military action as a Naval Rescue Tug. The Keshena was an unarmed tug. It was captained by Captain Oscar Johnson and had 17 crewmen aboard. On July 15, 1942, a convoy of nineteen merchant ships and five military escorts were attacked south of Cape Hatteras. Three of the merchant ships (Bluefields, Chilore, and J.A. Mowinckei) were torpedoed by U-576. The Bluefield was sunk in a matter of minutes while the other two suffered severe damage. During the attack, thirty men were injured and one would die later from his wounds. The response from the convoy in their pursuit of the U-boat resulted in the sinking of the U-boat. All men aboard U-576 were killed in the counter-attack. In all of the chaos following the attack, the damaged merchant ships wandered into the Cape Hatteras minefield while attempting to reach port. Again they were severely damaged. After striking the mines, both ships were abandoned and left afloat within the minefield.
Over the next couple of days, several channels were swept to make room for the tugs that were dispatched to tow the damaged ships. One of those rescue tugs was the Keshena. On July 19, 1942, the Keshena was located about 10 miles south of Ocracoke Island. As the Keshena moved out of the safe channel and into the minefield to move the tanker, J.A. Mowinckel out of the area. At about 5:00 PM, the tug moved underneath the stern of the tanker to begin pushing operations. At the time, an explosion blew up the after part of Keshena's engine room. In the explosion, a crew member was killed. Captain Johnson ordered the ship abandoned and the crewmen leaped overboard. Another crew member then died from drowning. The tug sunk within ten minutes. The survivors (14 males and one female) were rescued by a nearby boat and taken to Ocracoke Coast Guard station at 5:00 PM.
THE SHIP'S SPECIFICS:
| | |
| --- | --- |
| Built: 1919 | Sunk: July 19, 1942 |
| Type of Vessel: Steam Tug | Owner: U.S. Navy |
| Builder: Whitney Brothers Company, Superior, Wisconsin | Power: Oil engine; electric motor |
| Port of registry: Philadelphia, PA | Dimensions: 142' x 27,5' x 15' |
| Previous Names: Raymond Card, General | |
LOCATION OF THE SINKING:
Here is the location of the sinking: 34°59'37.51"N, 75°45'43.03"W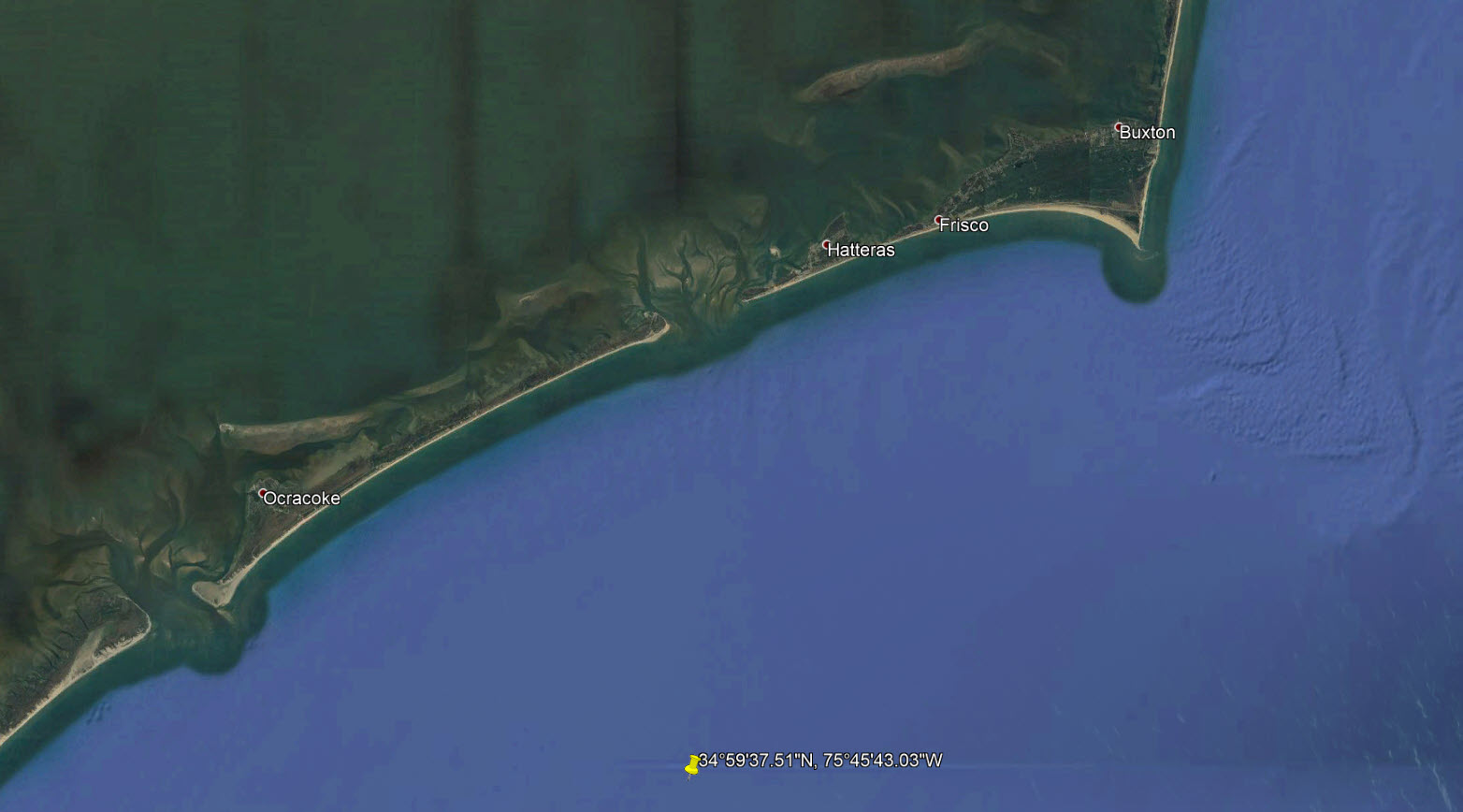 LOST CREW MEMBERS :
| Last | First | Date of Death | Position | Home | Age |
| --- | --- | --- | --- | --- | --- |
| Hampton | John | July 19, 1942 | Oiler | | |
SURVIVING
CREW MEMBERS :
A partial listing of the surviving crew: Total Crew Lost: 2, Survivors: 15
| | | | | | |
| --- | --- | --- | --- | --- | --- |
| Last | First | Position | DOB | Home | Age |
| Johnson | Oscar | Captain | | | |
Additional Photos:
| | |
| --- | --- |
| Final archeological site plan of Keshena. Photo courtesy of NOAA. | Multibeam survey of Keshena wreck site. Photo courtesy of NOAA |
| 2010 underwater photo of Keshena. Photo courtesy of Sybert, UNC CSI | Diver surveys Keshena. Photo courtesy of Sybert, UNC CSI |
| Underwater photo of Keshena. Photo courtesy of Sybert, UNC CSI. | Profile view photomosaic of Keshena. Photo courtesy of Hoyt, NOAA. |
| Diver inspecting the two boilers. Photo courtesy of Paul M. Hudy. | The stern fantail lying on the starboard side. Photo courtesy of Paul M. Hudy. |
| The diver comes around the bow. Photo courtesy of Paul M. Hudy. | Closeup of steering quadrant on the stern. Photo courtesy of Paul M. Hudy |
| The diver leaves the bow and comes down the port side of the wreck. Photo courtesy of Paul M. Hudy. | Remains of battery. Photo courtesy of Paul M. Hudy. |
| Portside anchor and windlass on top of the bow. Photo courtesy of Paul M. Hudy. | The rudder and rightmost prop blade come and go depending on the level of the sand. Photo courtesy of Paul M. Hudy. |