The Sinking of the

Morris and Cliff

:
The Morris and Cliff had previously been seized on June 21, 1925, off Watch Hill, Rhode Island for carrying a cargo of liquor valued at $230,000 at a time when prohibition was still the law. As noted in the article below, her sister ship the Mary Langdon was seized transporting 3,000 cases of liquor hidden beneath a deck cargo of lumber.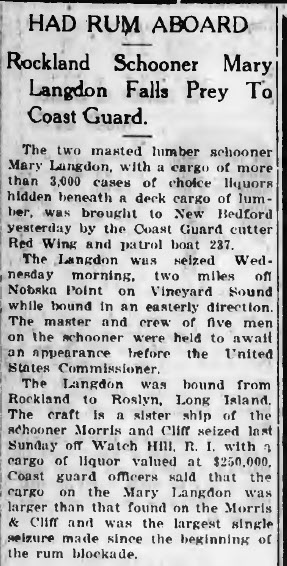 An article from Rockland Courier-Gazette, Thurs. June 25, 1925
The Morris and Cliff departed from Portsmouth, New Hampshire heading to Miami, Florida with a cargo of lumber and nails. On January 16, 1926, the schooner Morris and Cliff ran aground about 5 miles south of Swansboro, 1/4 mile south of Brown's Inlet. The captain and crew of 4 abandoned the ship as it was leaking and began to break up. The crew was taken to Norfolk, Virginia.
It was reported that people walking the beaches of Bear Island and the Hammocks Beach State Park area routinely find nails on the shore to this day.
THE SHIP'S SPECIFICS:
| | |
| --- | --- |
| Built: 1890 | Sunk: January 16, 1926 |
| Type of Vessel: Schooner | Owner: |
| Builder: Cobb, Butler & Co., Rockland, ME | Power: Sail |
| Port of registry: | Dimensions: |
| Previous Names: | |
LOCATION OF THE SINKING:
Here is the location of the sinking: 5 miles south of Swansboro, 1/4 mile south of Brown's Inlet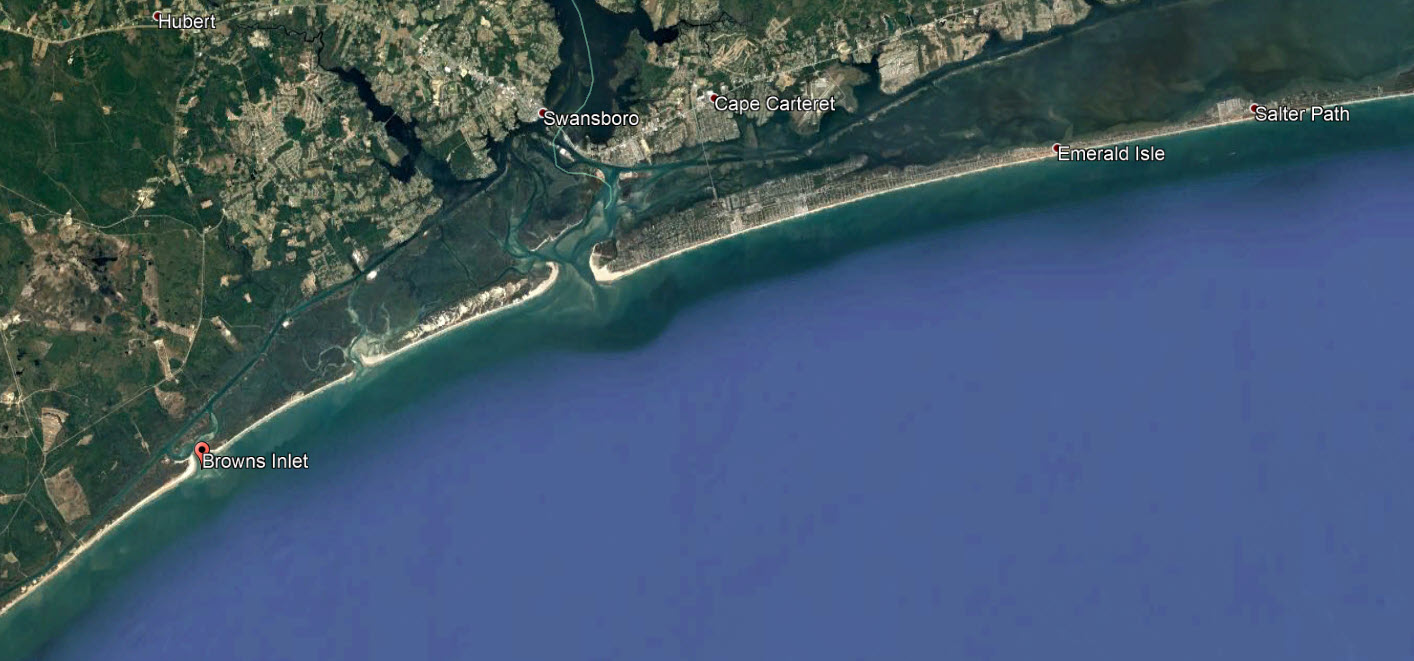 LOST CREW MEMBERS :
| Last | First | Date of Death | Position | Home | Age |
| --- | --- | --- | --- | --- | --- |
| | | | | | |
SURVIVING
CREW MEMBERS :
A partial listing of the surviving crew: Total Crew Lost: 0 Survivors: 5
| | | | | | |
| --- | --- | --- | --- | --- | --- |
| Last | First | Position | DOB | Home | Age |
| | | | | | |