Ships Sunk off the Coast - 1526 to 1825
Spanish brigantine

Brigantine

June 1526

Cape Fear

?

Tiger

English ship

June 29, 1585

Ocracoke Inlet

?

(?)

Fly-boat

1665

Cape Fear

0

(?)

Sloop

1666

Cape Lookout

2

HMS Hady
Ship
1696
Inlet between Roanoke and Currituck
HMS Garland
English Warship
Nov. 29, 1710
South of Currituck Inlet
Unknown
English ship
1728
6 miles seaward from Ocracoke Inlet
Adriatick
English merchantman
1739
Cape Hatteras
Hoylin
English merchantman
1741
Cape Hatteras
Woolford
English merchantman
1741
Cape Hatteras
George
American coastal trader
1743
Oregon Inlet
Katherine & Elizabeth
English merchantman
1744
Diamond Shoals
Neptune
English merchantman
1744
Diamond Shoals
Seven Unknown
English merchantman
Oct. 7/8, 1749
Ocracoke
Two Unknown
English merchantman
Oct. 7/8, 1749
5 miles north of the inlet
Unknown
Unknown
Aug. 18, 1750
Cape Hatteras
Nuestra de Solidad

Brigantine

Aug. 18, 1750

Drum Inlet

0

El Salvador

Packet Boat

Aug. 18, 1750

Topsail Inlet

?

La Galga

Frigate

Aug. 18, 1750

Cape Hatteras

?

Unknown
English merchantman
Aug. 18, 1750
Cape Hatteras
La Merced
Schooner
Aug. 31, 1750
Currituck Inlet
?
Two Unknown
Schooners-merchantmen
1752
Ocracoke Bar
Union
American merchantman
January 1757
Cape Hatteras
Virginia Packet
English packet boat
1757
Cape Hatteras
Unknown
American schooner
1757
Cape Hatteras
Friendship
English merchantman
1758
Cape Hatteras
Peggy
English merchantman
1758
Cape Hatteras
Princess Amelia
English merchantman
1758
Cape Hatteras
Tyrrel

Brigantine

July 3, 1759

Off Hatteras

16

Nancy
English merchantman
1760
Cape Hatteras
Charming Betsey
Scottish merchantman
1760
Cape Hatteras
Shannon
Scottish merchantman
1764
Currituck Inlet
Revenge
English merchantman
June 1765
two miles north of Currituck Inlet
Good Intent
English slaver
1767
Cape Hatteras
Charming Polly
English merchantman
1770
Cape Hatteras
Lively
English merchantman
1771
Cape Hatteras
Betsey
English merchantman
Before September 1772
Ocracoke bar

(14/15) Unknown

Large merchantmen
Early September 1772
Ocracoke Inlet bar
Charming Betsey
English merchantman
1774
Ocracoke Island
Sally
English merchantman
1774
Cape Hatteras
Clementina
English merchantman
1775
Cape Hatteras
Austin
English merchantman
1775
Cape Hatteras
Aurora
English troop-transport
Nov. 11, 1777
Cape Hatteras
Peggy
American merchantman
1783
Cape Hatteras
(17) Unknown
Ships
July 23/24, 1788
Ocracoke Inlet
(?)
(?)
1778
Roanoke Inlet
Molly
English merchantman
1789
Cape Hatteras
Pitt
English merchantman
1789
Cape Hatteras
Experiment
American merchantman
792
Cape Hatteras
(6) Unknown
Ships
Aug, 2, 1795
Ocracoke Inlet bar
Multiple Unknown
Spanish flota ships
Aug, 2, 1795
Cape Hatteras
Betsey (

Betsy)

Sloop

Sept. 6, 1797

Currituck Inlet

?

Industry
American merchantman
1798
Cape Hatteras
Expectation
English merchantman
1802
Cape Hatteras
Brunshill
English merchantman
1802
Cape Hatteras
Lydia
English ship
1804
Cape Hatteras
Molly
American merchantman
1804
Cape Hatteras
Fortura
Portuguese merchantman
1805
Cape Hatteras
Maria
French ship
1810
Cape Hatteras
Lively Lass
American ship
Late September 1810
Ocracoke Island

Patriot

Pilot boat

Jan. 1813

Nags Head

?

# 140

Gunboat

Sept.23, 1814

Ocracoke

?

(20+) Unknown
Ships
Early September 1815
Ocracoke Inlet and on Ocracoke Island
Superior
American merchantman
Oct. 3, 1815
Cape Hatteras
Sero
English merchantman
Sept. 26, 1816
Cape Hatteras
Atlanta
American brig
Nov. 8, 1815
Diamond Shoals
Mary
Ship
Apr. 15, 1816
Currituck Beach
Eliza
American merchantman
1816
Ocracoke Island
Bolina
American merchantman
Sept. 26, 1816
Boddy Island
Mary & Francis
American ship
March 1817
Cape Hatteras
Rosetta
Ship
Mar. 4, 1817
Ocracoke Inlet bar
Emperor of Russia
Ship
Mar. 18, 1817
Currituck Inlet
John Adams
American merchantman
May 19, 1817
Cape Hatteras

Voucher

Ship

Nov. 19, 1817

Chicamacomico

0

William Carlton

Ship

May 15, 1818

Kill Devil Hills

0

Georgia

Brig

July 15, 1818

Currituck Inlet

0

(2) Unknown
American merchantmen
Oct. 3, 1818
Cape Hatteras

Revenue

Sloop

Dec. 1818

Currituck Inlet

0

Revenge
American sloop
Jan. 1819

Currituck Inlet

Phoenix
American schooner
May 13, 1819
Cape Hatteras

Henry

Sloop

Dec. 5, 1819

Ocracoke

6

Islington

Ship/American merchantman

Mar. 16, 1820

Cape Hatteras

0

Horatio

American Ship

Apr. 2, 1820

Diamond Shoals

8

Unknown
125-ton English merchantman
Sept. 1821

Cape Hatteras

Charles K. Mallory
American merchantman
Sept. 10, 1821

Cape Hatteras

Martha
English merchantman
1821
Currituck Sands
Nereus
Ship
Jan. 1, 1822
Cape Hatteras

Enterprise

Schooner

Oct. 27, 1822

New Inlet

0

Peter Francisco
American ship
Oct. 7, 1823
Bodies Island
Caroline du Nord
French merchantman
Jan. 19, 1824
Ocracoke Inlet bar
Susan
American schooner
June 1, 1824
Ocracoke Inlet bar

Emulous

Schooner

Jan. 22, 1825

Kitty Hawk

0

Diomede

Schooner

Jan 3, 1825

Kitty Hawk

?

Washington
American ship
Jan. 24, 1825
Ocracoke Island
Nancy
American ship
Feb. 21, 1825
Ocracoke Inlet Bar
Horam
American merchantman
Apr. 6, 1825
Ocracoke Inlet Bar
(25+) Unknown
Ships
June 4, 1825
North of Ocracoke Inlet

Harvest

Schooner

Nov. 18, 1825

Boche Island

?

Victory

Schooner

Dec. 1825

Kitty Hawk

?
The Beginning Point
As the research began to discover the history of sunken ships, the earliest recorded sinking occurred in 1526. But the question arises, Why has this been such an active point when it comes to sunken ships? The thing to know is that on Cape Point at Hatteras, an event occurs that is not visible to the eye. This is the place where the northbound Gulf Stream and the cold currents from the Arctic collide. This area is known as the Diamond Shoals. Seafaring men came to call this area the Graveyard of the Atlantic.
IMPORTANT TO REMEMBER
Pirates were known to roam the coastal waters off the Outer Banks
At one point there were houses in just about every community built wholly or partially from lumber salvaged from wrecked ships
Areas of the Outer Banks that still today have descendants of shipwrecked mariners
Shipwrecks not only populated the island but also provided income
THE SHIPS LOST AND BEGINNING OF LIFE ON THE OUTER BANKS
Many vessels lost were engaged in trade routes going back and forth from north to south and south to north. There were many transatlantic ships that were lost traveling through this area. Why pass through this area when traveling from a Caribbean island to a destination in Europe? The answer was the Gulf Stream. Early navigators learned that by traveling the Gulf Stream current they could save considerable time.
And the beginning history of the Outer Banks can be attributed to these wrecks. Many shipwrecked sailors began to set up their homes here. Others began to settle on the island as a result of shipping and shipwrecks. Some served as pilots for the larger cargo vessels, while others became customs inspectors or militia sent by the Colonial government.
And of course, there were pirates, too. Such well-known pirates as Blackbeard, Stede Bonnet, Anne Bonny, and Calico Jack Rackam were known to sail out of the Outer Banks to attack merchant vessels. During their time, there could be a debate as to which was more dangerous: the storms off the coast or the raiding done by the pirates.
The first ship most historians agree was the first shipwreck off the coast of the Outer Banks a Spanish brigantine off Cape Fear in June of 1526. The ship was a part of the Spanish nobleman Lucas Vázquez de Ayllón's attempt to establish a colony in South Carolina.
The book, Graveyard of the Atlantic: Shipwrecks of the North Carolina Coast, indicates the loss of the ship, Tiger. Under the command of Sir Richard Greenville, a fleet of ships entered the sound surrounding Roanoke Island. However, in researching information on this ship it seems that it round aground but was salvaged and repaired. Even though the ship was saved it appears most of its provisions were lost. Almost two weeks later after being repaired, the Tiger sailed across the Pamlico Sound to explore the mainland coast around July 21. It eventually left the area on August 31 and headed back to England.
The next ship to have been sunk off the coast of North Carolina, not off the Outer Banks was part of a three-ship fleet directed by Sir John Yeamans, a knight, and governor of the region, then called Clarendon County. Some report that it was sunk on Frying Pan Shoals, and another indicates it south of Old Baldy Lighthouse. An article from the stateportpilot.com from September 15, 2017, indicates that Denny Breese, who has found famous shipwrecks, including the Atocha, Fortuna, and La Rosa de Bilbeo, thinks he discovered the ship south of Old Baldy Lighthouse.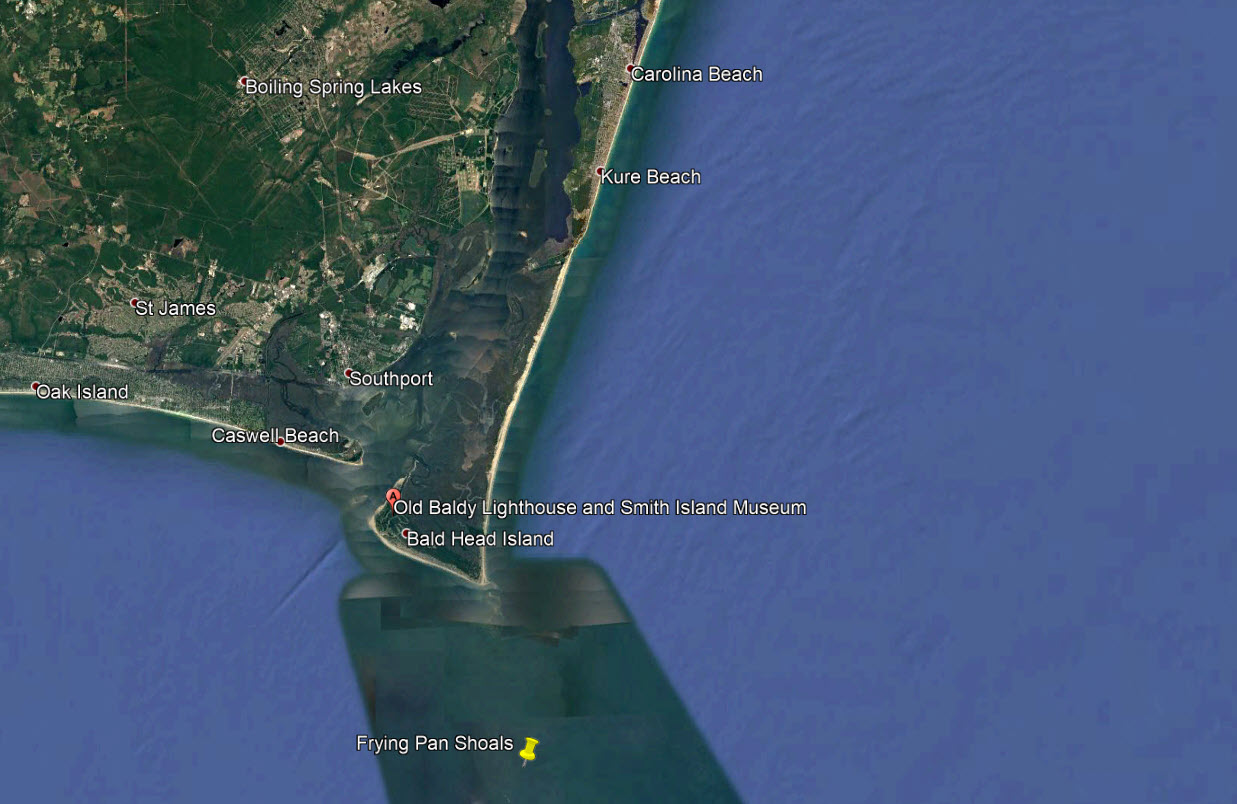 Area of Sir John Yeaman's flyboat sinking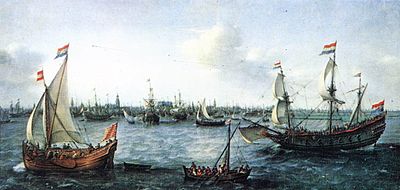 A painting, The Harbour in Amsterdam (1630) by Hendrick Cornelisz Vroom, with a Flyboat on the left.
Breese stated that he discovered a debris field standing two to three feet above the bottom of the Cape Fear River at a spot where visibility is usually zero or inches at best. The size indicates that it seems to fit the profile of the 150-ton vessel. Apparently, a witness indicated that the crew of the flyboat was saved by the "neighborhood of the shore," which was the first reference to permanent inhabitants to the area now known as Southport or Oak Island. All of the boat's cargo, including cannons, powder, matchlocks, and bullets were abandoned and could still be with the wreck. The indication of a witness came from the book, The Story of Cape Fear and Bald Head Island, by Kevin P. Duffus.
MOVING AHEAD INTO THE 1800S
Up until the end of the War of 1812, very little information was recorded or given regarding shipwrecks. However, after this time newspapers began to record stories about shipwrecks off the coast of North Carolina. An interesting article appeared in the Norfolk Beacon and Portsmouth Advertiser on January 15, 1820, regarding the sinking of the Henry.
Articles began to appear in the American Beacon, the Norfolk Herald, the New York Daily Express, and Portsmouth Herald.