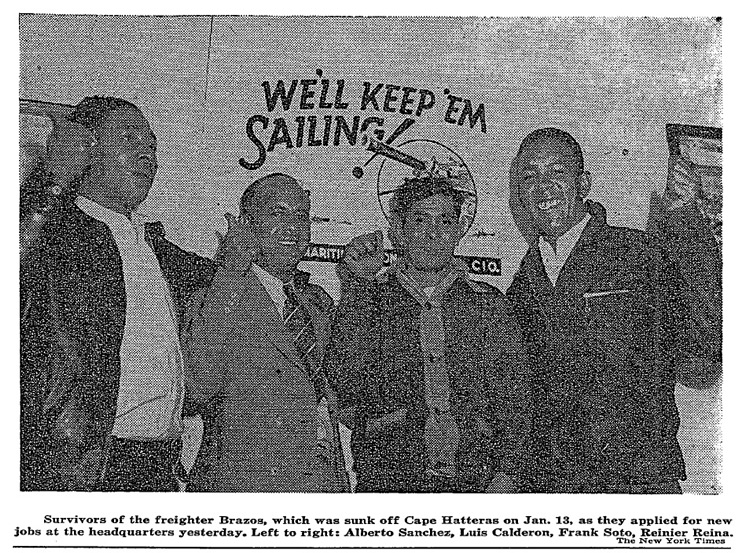 The Sinking of the Brazos
The 4,497-ton American freighter, Brazos, which had been involved in coastal and West Indian trade, sunk after a collision with another ship 150 miles southeast of Cape Hatteras. The crew of thirty-five were all rescued. Two were injured in the collision. Reports indicate that at approximately 10:30 PM collided with an unidentified ship (some identified it as the HMS Archer).
A crew member, Reinier Reina, reported he was playing cards at about 9:00 PM when he heard a shout: "All hands on deck!" When he reached the deck he heard a heavy crash and the after mast toppled down. The captain, Charles L. Stone, thought if the crew could shift the cargo in the hold, that the ship could be saved. However, the water was pouring into the hold and the Captain eventually ordered the ship abandoned. The crew remained in the lifeboats near the Brazos until the vessel dissappeared. A half an hour later they were taken aboard another vessel.
THE SHIP'S SPECIFICS:
| | |
| --- | --- |
| Built: 1899 | Sunk: Jan. 13, 1942 |
| Type of Vessel: Freighter | Owner: American, Gulf and West Indies Steamship Company |
| Builder: ?, Newport News, VA | Power: Coal-fired steam |
| Port of registry: | Dimensions: 391.7' x 48.3' x 26' |
| | |
LOCATION OF THE SINKING:
Only information know is sunk 150 miles southeast of Cape Hatteras