The Sinking of the Bris:
The Bris was a part of the Norwegian Shipping and Trading Mission. The agents in the United States were Dichmann & Wright out of New York. The ship left New York on April 12, 1942. Its cargo contained asphalt in barrels and wheat flour bags with a total weight of 2,800 tons. It made one stop in Baltimore to top off its cargo and then was heading to Natal, Brazil. She headed out of Baltimore on April 18, 1942, with instructions from the British Naval Control authorities stationed in Baltimore. That evening the Bris anchored inside Cape Henry and departed the following morning. At the helm was Captain Einar Hansen, a Norwegian. Onboard was a crew of thirty-five men, mostly Norwegians. The ship had a single 3-inch gun.
Just before noon on April 20, the men were ordered to clean up the ship. The refuse that they collected, including packing mats and garbage, was tossed overboard. Unfortunately, for them, it created a trail of their whereabouts. That evening they began their usual evening routine on watch. The gunner, Johannes Hauge, left his gun and went below to rest. At the time the ship was 300 miles east of Cape Hatteras. The captain knew this was a prime U-boat hunting area so he insisted on continuing a zigzag pattern both day and night. Knut Hellen, the second mate, stood in charge of the watch between the end of dinner and midnight.
Along with Hellen, there were three others keeping watch for any signs of U-boat activity. One man was located at the forecastle head in the front of the ship, one was at the wheel, and another moved around the deck. At the time it was a bit windy (15 knots), some clouds, visibility was good, and it was a moonless night. Then at 8:45 PM, the Bris was hit with a torpedo fired by German U-boat U-201. The U-boat was under the command of Kapitänleutnant Adalbert Schnee. The torpedo hit the Bris forward, in the first and second holds from the bow, about five feet below the waterline. The explosion forced water upwards. One survivor reported multiple torpedoes may have hit the ship. Whatever, the situation, the forward compartments quickly flooded.
The ship lost control and began to veer off to the left. At the same time, its speed went from 10 knots down to 2 knots. It continued to move along for another five minutes before sinking. This allowed enough time for the crewmen to abandon the ship. As they departed the ship the engines were still going, as well as the propellers. In a hurry to get off the ship, Norwegian Chief Engineer Anton Gotfred Engebretsen, aged 49, Rolf Olaussen, 29, a stoker, and William England, 33, a British stoker, were caught in the ship's large propellers and killed by them.
In the sudden attack, there wasn't an opportunity to send out a SSS or SOS message, especially since there was no designated radio operator aboard the ship. Captain Hansen was able to throw all secret codes overboard in a weighted bag. The attack happened so quickly that even Gunner Johannes Hauge didn't even have time to put his skills to use.
The survivors were able to lower to lifeboats. Nine men jumped overboard. Three of those mentioned above were the ones that perished in the propellers. The remaining six men were pulled in one of the lifeboats. Also, the body of Chief Engineer Engebretsen was brought onboard. Shortly, thereafter his body was buried at sea. Then the overcrowded lifeboat met up with the Captain's lifeboat and six men were transferred to it. Now there were 13 men in one boat and nine in the captain's boat.
The following morning at around 6:00 AM, three men (Chief Officer Konrad Kjaaer Anderson, Boston Karl Misovil, and Gunner Hauge) thought they saw the periscope of a submarine. According to them, it remained on the surface for 30 minutes. the attacking submarine's report doesn't indicate this being so. However, given their location was swarming with U-boats including U-654, U-575, U-572, U-402, U-109, or U-86. Yet, none of these submarines' records show any sign of these lifeboats.
The two lifeboats stayed close by each other until around 7:00 AM on April 21, 1942. The two boats then set off to find land. At that point, the lifeboats were 225 miles north-northwest of Bermuda and 325 miles east-southeast of Cape Hatteras. Instead of heading in either of those two directions, they decided they would head across the Gulf Stream and make for the nearest coast. They choose this route for two reasons: first, they were less likely to miss land; and, secondly, traveling across the Gulf Stream they would be more likely to encounter other ships traveling along the coast.
Beginning that first morning and for the remaining time that week until the 27th of April, the weather was miserable. The survivors were constantly being soaked by rain and ocean spray. After this rainy period, the conditions improved to warm then hot during the day, and then cold at night. And so two weeks past and the thirteen men about the one lifeboat didn't see either ships or planes. During the rough weather, their lifeboat capsized twice. Even with all of this their first thirteen days the men stayed in good condition and kept their morale up. Starting off they were in good supply having 200 liters of water, 30 pounds of corned beef, ten tins of milk, 100 pounds of sea biscuits.
However, when their boat overturned twice on the fifth day (April 26), they were able to retrieve 100 pounds of sea biscuit and 35 liters of water. At times they took 20-minute stretches of bailing water to keep their boat from sinking. By May 3rd, all their rations were depleted and the men's mental and physical health began to go downhill. Just as all seemed lost, at 8:15 PM that evening an army airplane sighted the lifeboat. The boat had used red flares and a white flag to get the attention of the plane. In all of this time, the lifeboat had gone 450 miles.
The Eastern Sea Frontier Enemy Action Diary reported that another plane flown by the Army Air Corps sighted three more lifeboats at 1:42 AM. One of the lifeboats could have been the other lifeboat with Captain Hansen and the other eight men. The planes signaled a Marine Corps tug from Parris Island Marine Base and a pilot boat from Savannah, Georgia to look for the lifeboats. On May 4, at 5:15 AM, tug picked up the 13 men in the one lifeboat and took them to Parris Island Marine Base at 10:30 AM.
And what of the other lifeboat with Captain Hansen? Well, it appears that his boat capsized in bad weather three times. It was discovered by an aircraft sooner than the other lifeboat but wasn't rescued until about the same time as the other one. On May 2, at about 3:00 PM, a bomber from the 52nd Bomber Squadron sighted the lifeboat. The plane dropped water and a note stating that it would send further assistance. This lifeboat wound up heading further north sailing 122 miles between the bombers sighting and where they were rescued by the US-flagged tanker Chester O. Swain on May 4 at 6:20 AM. As noted above just over an hour after the other lifeboat had been rescued. Captain Hansen's boat was only five miles off Cape Fear, North Carolina.
After all of those days at sea, the Third Engineer, Trygve Thøverssen passed away aboard the Chester O. Swain on May 4 at 12:00 PM. The other eight survivors landed at the US Coast Guard base in Charleston, South Carolina that same night at 8:00 PM. He was later buried in Charleston, South Carolina.
THE SHIP'S SPECIFICS:
| | |
| --- | --- |
| Built: 1938 | Sunk: April 20, 1942 |
| Type of Vessel: Steam Merchant | Owner: D/S A/S Truls (M. Thorvik), Oslo |
| Builder: Trondhjems Mekaniske Verksted, Trondheim | Power: Steam Engine |
| Port of registry: Oslo | Dimensions: 289' x 44' x 18.4' |
| Previous Names: | |
LOCATION OF THE SINKING:
Here is the location of the sinking: 33° 35'N, 69° 38'W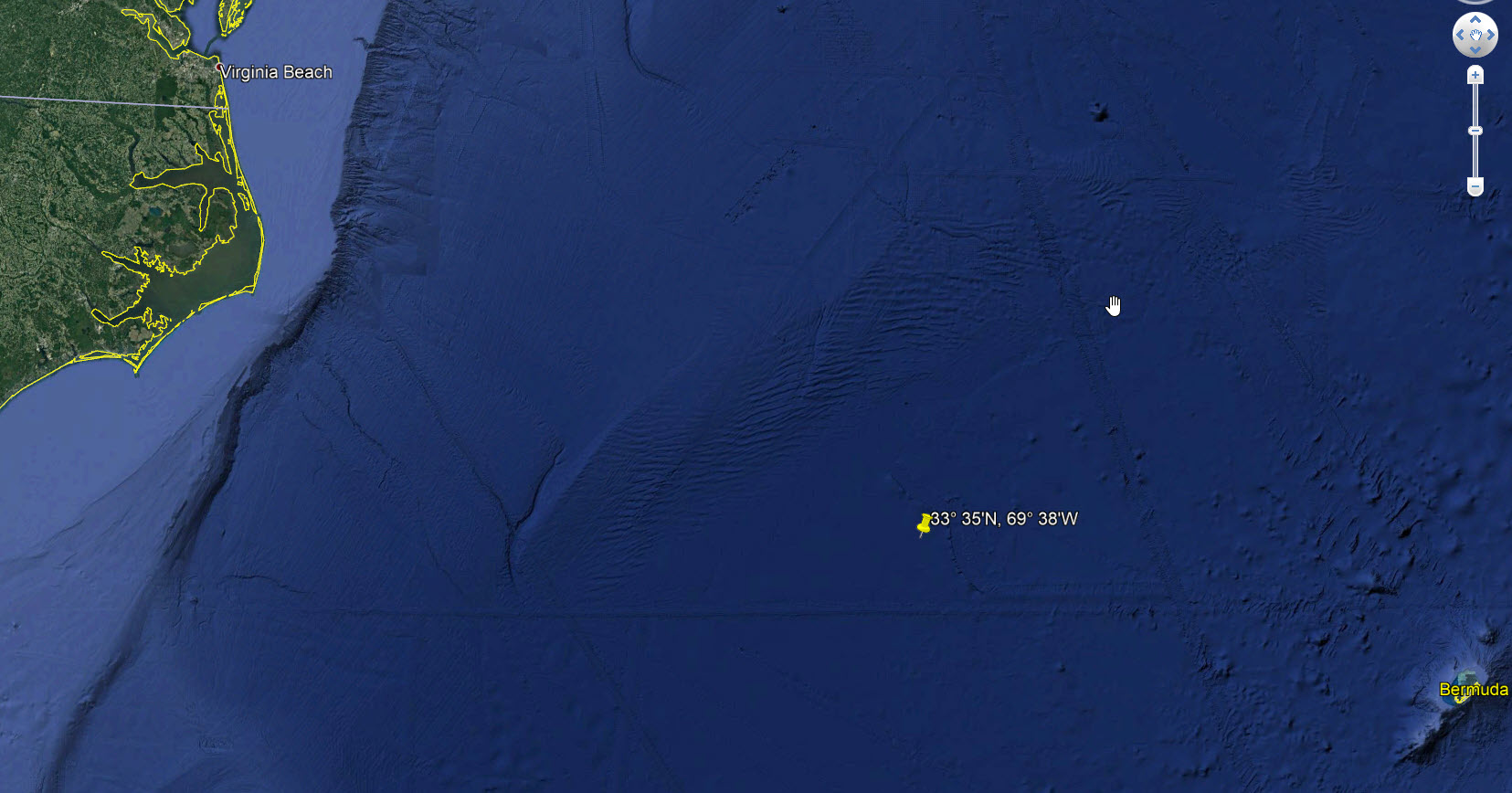 LOST CREW MEMBERS :
Total Lost: 4, Survivors: 21
| Last | First | Date of Death | Position | Home | Age |
| --- | --- | --- | --- | --- | --- |
| Engebretsen | Anton Gotfred | April 21, 1942 | Chief Engineer Officer | | 49 |
| England | William | April 21, 1942 | Stoker | | 33 |
| Olaussen | Rolf | April 21, 1942 | Stoker | | 29 |
| Thøverssen | Trygve | May 4, 1942 | Third Engineer Officer | | 39 |
SURVIVING
CREW MEMBERS:
A listing of the surviving crew:
| Last | First | Position | DOB | Home | Age |
| --- | --- | --- | --- | --- | --- |
| Andersen | Konrad Kj | Chief Officer | | | |
| Andersen | Olaf | Donkeyman | | | |
| Berentsen | Hjalmar | Cook | | | |
| Fjalestad | Olaus | Able Seaman | | | |
| Hansen | Einar | Master/Captain | | | |
| Hauge | Johannes | Able Seaman/Gunner | Sept. 9, 1905 | Høilandsbygd, Sunnhordland | 37 |
| Helland | Knut H. | Second Officer | | | |
| Holmquist | Leif | Able Seaman | | | |
| *Johannesen | Peder Johan | Steward | Dec. 2, 1906 | Bergen, Hordaland | 35 |
| Knudsen | Hermod | Able Seaman | | | |
| Larsen | Carl C. | Able Seaman | | | |
| McMillan | John | Stoker | | | |
| Måsøval | Kåre | Boatswain | | | |
| Norhagen | Harald | Able Seaman | | | |
| Olsen | Einar | Stoker | | | |
| Rummelhoff | Karl B. | Second Engineer Officer | | | |
| Rysnyk | Marcelles van | Mess Room Boy | | | |
| Silva | José | Stoker | | | |
| Simensen | Rolf | Able Seaman | | | |
| Souza | Caetano Miguel de | Galley Boy | | | |
| Tischler | Henry | Stoker | | | |
*Survived the sinking of Besholt on Dec. 2, 1942, by German U-boat U-174. He was a gunner aboard the Besholt.
Photos of Bris:
| | |
| --- | --- |
| Bris Gunner and Able Seaman Johannes Hauge. Photo courtesy of Sjøhistorie.no | Third Engineer, Trygve Thøverssen. Photo courtesy of Sjøhistorie.no |