The Sinking of the City of Atlanta
Her early life was spent as a passenger and cargo ship. The City of Atlanta was a ship that tended to find mishaps wherever she sailed. The first incident was October 29, 1920, when she collided with an outbound concrete ship Cape Fear leaving Narragansett Bay. The Cape Fear sank within three minutes. The City of Atlanta suffered a badly crumbled bow.
While in drydock for repairs, the owners decided that since the passenger trade was slowing down to make revisions to the ship. They had the upperworks cut back and more cargo space was added.
Once out of drydock the City of Atlanta collided with the barge Juniper in dense fog off York Spit, Baltimore on February 10, 1925. The barge sank in thirty feet of water. The City of Atlanta suffered a broken guard rail and a dented side.
The City of Atlanta once again collided with another ship on May 14, 1930. This time she rammed the schooner Azua approximately forty-seven miles southeast of Barnegat, New Jersey. The Azua sunk with her captain and one crewman aboard.
On January 14, 1942, the ship left New York for Savannah with a cargo of moist coconut, dried coconut, soap, brassware, sardines, dates, date-nut bread, orange-nut bread, gingerbread mix, Devil's food mix, poultry feed, macaroni, metal cots, spring assemblies, sole leather, shoe tops, fish rubber products, drug products, scoured wool, and three cases of Kings Ransom Scotch Whiskey.
The ship was captained by L.C. Urquhart who commanded a crew of forty-six. At the time there were no passengers aboard. Three days prior to departure the tanker Norness was torpedoed by the U-123 approximately 80 miles south of Mantauk, NY. The Norness was the first casualty of WW II U-boat attacks.
Because of this attack, the Navy ordered the City of Atlanta to hug the shore and dim her navigation lights. On that fateful early January 19th at 2:12 A.M. the ship was hit. According to Chief Mate George Tavelle, the watch officer, the torpedo "struck on the port side, a little abaft of the engine room bulkhead in number 2 hold. There was a great flare of flame on the explosion, and there was debris in the air and a very heavy concussion. The concussion blew in the pilothouse windows, shattering them."
Six hours after the City of Atlanta was hit the freighter Seatrain Texas came into view. They picked up five survivors out of the forty-seven. Assistant Engineer John York died shortly after being picked up from exposure to the cold water.
THE SHIP'S SPECIFICS:
| | |
| --- | --- |
| Built: 1904 | Sunk: Jan. 19, 1942 |
| Type of Vessel: Passenger-freighter | Owner: Ocean Steam Ship Company of Savannah, New York, NY |
| Builder: Delaware River I.S.B. & Engineering Works, Chester, PA | Power: Coal-fired steam |
| Port of registry: Savannah,GA | Dimensions: 378' x 49' x 35' |
| | |
LOCATION OF THE SINKING:
Here is the location of the sinking: 35'23.48N 75'20.48W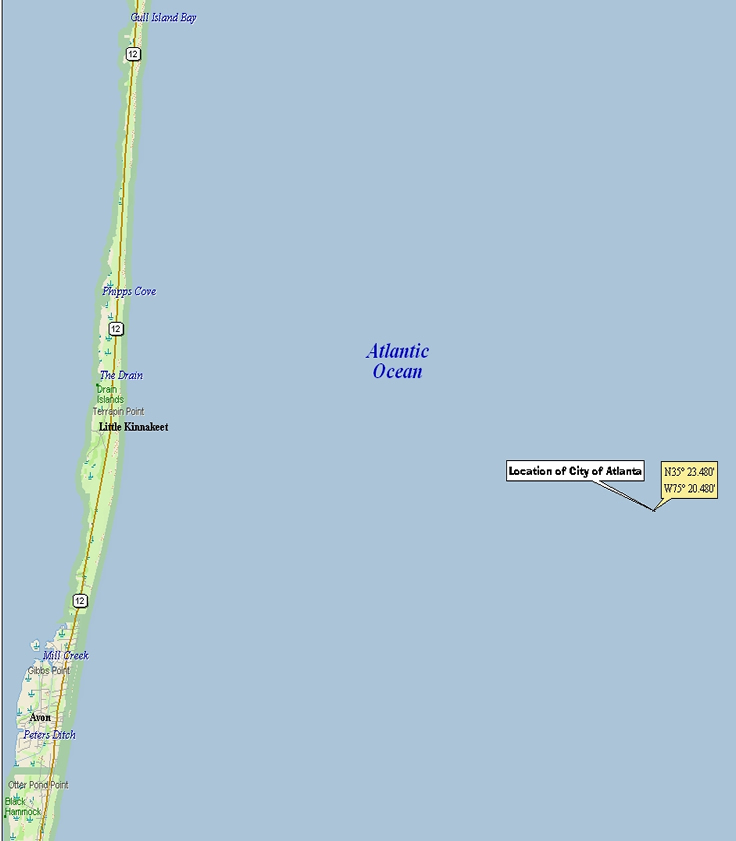 OTHER PHOTOS :
| | |
| --- | --- |
| Postcard dated 3/30/1906 of Ocean Steamship Company's Dock, Savannah, GA | Photo from NY Times - 1/22/42 - Rescued Crew |