The Sinking of Otho:
In investigating the sinking of Otho, it was difficult finding detailed information. Information from uboat.net revealed the following information:
The Otho was departing from Takoradi on the Gold Coast heading to Philadelphia. Onboard was 4400 tons of manganese ore, 1300 tons of palm oil, and 750 tons of tin. At 1149 AM on April 3, 1942, the unescorted ship captained by John Makkinje was hit by one torpedo from German U-boat, U-754. At the time their location was approximately 200 miles east of Cape Henry, Virginia. The torpedo hit the starboard side amidships just below the stack at the bulkhead. The hit was between the #3 tank and the engine room.
The explosion was so damaging that it only took 12 minutes for the boat to sink. Most of the ten officers, twenty-six crewmen, ten armed guards, and seven passengers abandoned the ship within five minutes in three boats and a raft. Three officers, nine crewmen, one armed guard, three passengers were rescued by the American patrol yacht USS Zircon (PY 16) and taken to Cape May, New Jersey on April 8th.
On April 25th, one crewman and five armed guards were rescued in their raft by the Norwegian motor tanker Gallia about 150 miles west of Bermuda and dropped off in Halifax, Virginia. The survivors were so exhausted that two men from the tanker jumped overboard to help them. One of the guards died an hour after being rescued.
The remaining crew and passengers who escaped the torpedoed vessel were never found. The total lost lives were: the captain, six officers, 16 crewmen, five armed guards, and four passengers.
THE SHIP'S SPECIFICS:
| | |
| --- | --- |
| Built: 1920 | Sunk: April 3, 1942 |
| Type of Vessel: Steam Merchan | Owner: American-West African Line, Inc., New York |
| Builder: Todd Drydock & Construction Corp., Tacoma, WA | Power: Steam |
| Port of registry: New York | Dimensions: 376' long x 53' wide x 26' deep |
| Previous Names: | |
LOCATION OF THE SINKING:
Here is the location of the sinking: 36° 25'N, 72° 22'W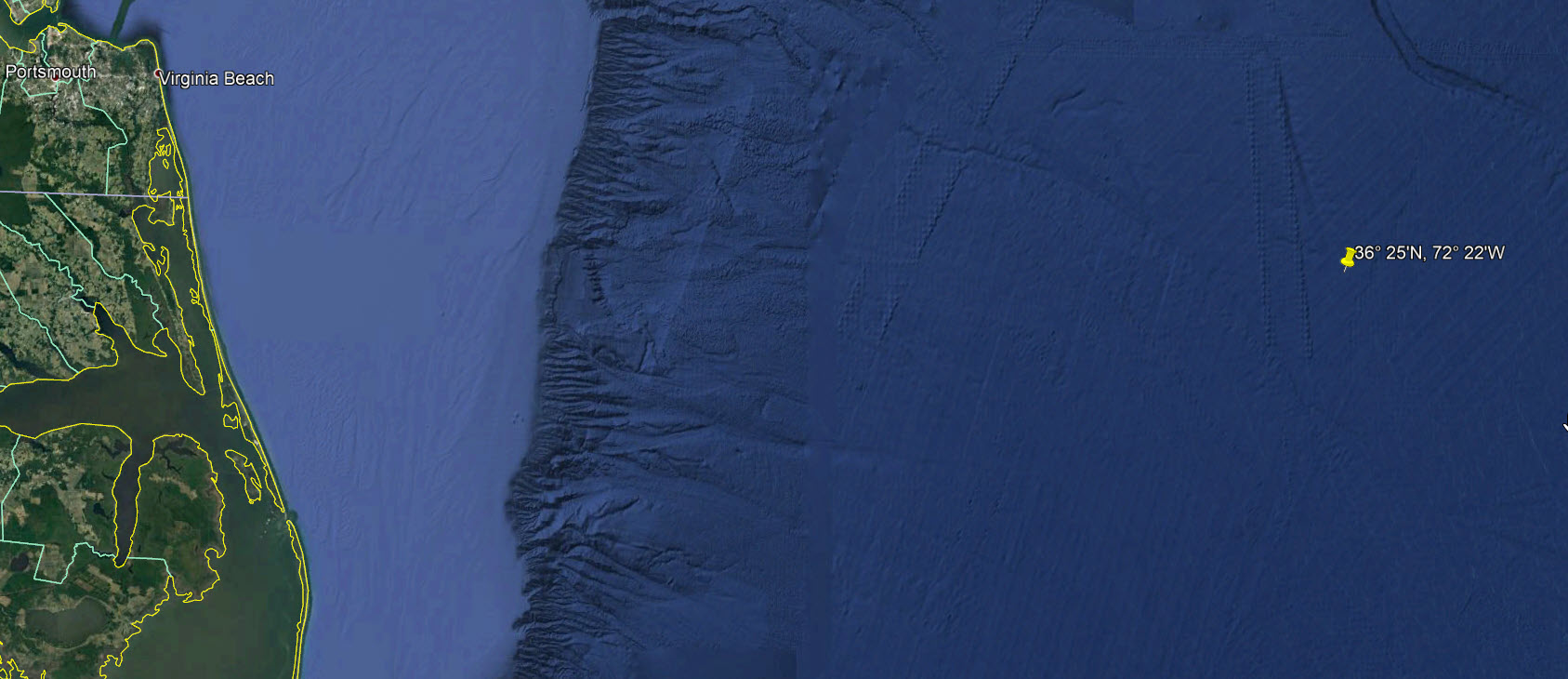 LOST CREW MEMBERS :
Total Lost: 32, Survivors: 21
| Last | First | Date of Death | Position | Home | Age |
| --- | --- | --- | --- | --- | --- |
| Abrung | Cenon | April 3, 1942 | Fireman/Watertender | New York, NY | 62 |
| Bailey | George | April 3, 1942 | Oiler | New York, NY | 37 |
| Brennan | John Joseph | April 3, 1942 | Ensign | Philadelphia, PA | |
| Cerabone | Otto Charles | April 3, 1942 | Junior Third Assistant | Bridgeport, CT | 39 |
| Correa | James Eustachio | April 3, 1942 | Messman | Brooklyn, NY | 46 |
| DeDominicis | Bernard Kenneth | April 3, 1942 | Radio Operator | Newark, NJ | 29 |
| Efird | Edward Lee | April 3, 1942 | Seaman Second Class | Salisbury, NC | 22 |
| Fishburne, Jr. | Clement Daniel | April 3, 1942 | Able Seaman | Charlottesville, VA | 41 |
| Lindstrom | Axel Harald | April 3, 1942 | Boatswain | Brooklyn, NY | 54 |
| Luaces | Victor Otero | April 3, 1942 | Oiler | New York, NY | 37 |
| Madison | Osman George | April 3, 1942 | Cook | New York, NY | 46 |
| Makkinje | John | April 3, 1942 | Master/Captain | Brooklyn, NY | 49 |
| Manns | Joseph Augustus | April 3, 1942 | Messman | Brooklyn, NY | 50 |
| McFadyen | John Donaldson | April 3, 1942 | Able Seaman | Morganton, NC | 32 |
| Ortleb | Otto Karl | April 3, 1942 | Fireman/Waterman | Tampa, FL | 41 |
| Proctor | Henry | April 3, 1942 | Messman | New York, NY | 40 |
| Richardson | William George | April 3, 1942 | Chief Engineer | Woodside, NY | 41 |
| Rodriguez | Julio | April 3, 1942 | Fireman/Waterman | Brooklyn, NY | 57 |
| Rodriguez | Manuel | April 3, 1942 | Oiler | Brooklyn, NY | 43 |
| Scarborough | Hiram Alton | April 3, 1942 | Seaman Second Class | Dublin, GA | 23 |
| Schaper | Fred Emil | April 3, 1942 | First Assistant Engineer | New York, NY | 57 |
| Seymour | James Edward | April 3, 1942 | Able Seaman | Brooklyn, NY | 53 |
| Shotts | S.B. | April 3, 1942 | Seaman First Class | Vina, AL | 20 |
| Smith | Arthur Covell | April 3, 1942 | Chief Mate | Springfield Garden, NY | 38 |
| Webb | George Frederick | April 3, 1942 | Steward | Miami, FL | 53 |
| *Weiant, Jr. | Carl Andrew | April 25, 1942 | Ensign | Newark, OH | 26 |
| Williams | Fred Busbee | April 3, 1942 | Junior Third Mate | Swansea, SC | 45 |
| Winter | Albert Stanley | April 3, 1942 | Second Assistant Engineer | Brooklyn, NY | 41 |
*Survived the sinking but died shortly after being rescued by the Gallia on April 25, 1942


SURVIVING
CREW MEMBERS & PASSENGERS:
A listing of the surviving crew:
| Last | First | Position | DOB | Home | Age |
| --- | --- | --- | --- | --- | --- |
| Augustine | John F. | Mess boy | 1915 | | 27 |
| Babcock, Jr. | Philip Westerly | Third Mate | Dec. 24, 1915 | South Nyack, NY | 26 |
| Bohnen | Harold Joseph | Passenger | Nov. 9, 1896 | Winnetka, IL | 45 |
| *Carlson | Torsten | Able Seaman | April 18, 1895 | Jersey City, NJ | 46 |
| Derrickson | Malin | Ordinary Seaman | May 29, 1916 | Philadelphia, PA | 25 |
| Edwards | Alric Jackson | Third Assistant Engineer | April 11, 1910 | Charlotte, NC | 31 |
| Farmer | Dallas Edward | Seaman Second Class | Oct. 29, 1917 | Stronghope, MS | 24 |
| Fisher | Paul Rupert | Coxswain | May 18, 1921 | Cross Creek, WV | 20 |
| Henson | Carl Oscar | Carpenter | April 9, 1886 | New York, NY | 55 |
| Hilcken | Robert William | Seaman Second Class | Sept. 14, 1924 | Edgewater, NJ | 17 |
| L'Hommedieu | Robert Vincent | Passenger | Oct. 12, 1917 | Babylon, NY | 24 |
| Magruder | Edward Thomas | Passenger | Oct. 12, 1916 | Washington, DC | 25 |
| Mominee | Roland Valmore | Ordinary Seaman | Nov. 11, 1901 | Southbridge, MA | 40 |
| Perez | Ascielo M. | Ordinary Seaman | 1907 | Puerto Rico | 35 |
| Roberts | Carl Foch | Ordinary Seaman | Aug. 22, 1918 | Ashland, Ky | 23 |
| Roller | Rufus Bascom | Seaman Second Class | Oct. 27, 1916 | Hawkins, TN | 25 |
| Tigner | James Lee | Able Seaman | Jan. 17, 1912 | El Paso, TX | 30 |
| Velasquez | Cristobal | Ordinary Seaman | 1918 | | 24 |
| Ward | Parke Milburn | Second Mate | Sept. 16, 1883 | Brooklyn, NY | 58 |
| Wiley | Will B. | Seaman Second Class | | | |
| Zelinski | Stanley Anthony | Wiper | Sept. 19, 1919 | Providence, RI | 22 |
*Died on the Examelia when it was sunk by German U-boat U-68 on Oct. 9, 1942